---
Features
International agreements expand MDC's reach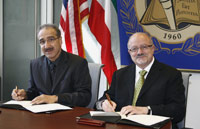 Dr. Ridha M. Al-Khayyat, the director of Kuwait's Institute for Banking Studies, met with MDC President Dr. Eduardo J. Padrón to sign a memo of understanding to create the College's first international satellite campus.
A new agreement between MDC and Kuwait's Institute of Banking Studies will add to the College's international offerings.
The two institutions recently signed a memo of understanding to begin formal negotiations to create a satellite campus of MDC that would offer the Associate in Science in financial services with a specialization in banking.
MDC's School of Business would collaborate with the Center for Financial Training to develop the proposed curriculum, said Stephanie Etter, director of the School of Business. The program would be supplemented with coursework on Kuwaiti legal and banking industry requirements, Etter said.
The agreement is a significant milestone for Miami Dade College, which has been expanding its international reach in recent years.
The College has agreements with educational institutions all over the world – with the most recent in Saudi Arabia and China – to train medical, aviation and hospitality management professionals. An agreement with the air traffic management department of Shenzhen, China, would bring airport managers to MDC, where they'd learn to operate multiple or parallel runways.
The Kuwait partnership would mark the first time MDC has offered a full degree program in a foreign country.
"This is a big deal for the School of Business," Etter said. "It would mean invaluable professional development opportunities for faculty, who would have the opportunity to spend semesters abroad teaching."
The Institute of Banking Studies, a private, nonprofit organization that specializes in banking education, training, research and consulting, contacted MDC about offering the program, said Dr. Phil Parkerson, MDC's executive director for international education.
"Agreements like this contribute to our goal of globalization of education at the College," Parkerson said. "They give us exposure to ideas and points of view from around the globe. It's a cross-fertilization of ideas and perspectives."
MDC President Dr. Eduardo J. Padrón and Dr. Ridha M. Al-Khayyat, the Kuwaiti institute's director, signed the memo of understanding at a recent ceremony at MDC's Wolfson Campus.
— Gariot P. Louima
More Features Articles