---
Academics
Professor readies students for careers in flight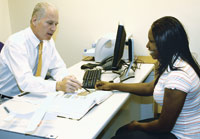 Professor Tim Schmelzer instructs a student.
Aviation professor Tim Schmelzer likes to quote Wilbur Wright when describing his job, saying he can "hardly wait to get up in the morning."
Schmelzer teaches aviation administration and flight training in MDC's Eig-Watson School of Aviation.
He studied at Florida's Institute of Technology, earned his pilot's license and was a corporate pilot, flight instructor and manager for several major airlines before moving into teaching to "share his passion with the next generation." He says it has been extremely rewarding.
"I'm a dream maker. I get paid when my students fulfill their dreams."
And Miami Dade College offers him unparalleled resources to educate students – resources like top-notch simulators and access to one of the most complex airspaces in the country.
"With five public airports plus one military facility in Miami-Dade County, it's the perfect training environment," he explained.
In addition, Miami International Airport (MIA) is globally recognized for its maintenance capabilities and aircraft flight simulation facilities. Pilots are sent here for initial and recurrent flight training and aircraft are regularly flown in from around the world for service and repair. These factors make South Florida, and Miami specifically, one of the most desirable locations for students from all over the country, and the world, to study aviation.
A recent move into a new location adds to the comprehensive list of benefits MDC's School of Aviation boasts. The completely renovated facility features new classrooms and a computer lab but most importantly, offers students increased proximity to the air traffic control tower and the immense international airport operations at MIA.
"The new location offers direct hands-on access to the technology and facilities students will use after they graduate. In addition, it offers us the capability of reaching more students currently in the workforce," he said.
When he is not in the classroom, Schmelzer heads the College's 40-year-old Flight Team. Flight Team members participate in an annual intercollegiate competition that puts MDC students head to head with other two-year and four-year college students. They compete in 11 events including five flight events and six theory events. Since Schmelzer has been working with the team, they have been in the nationals three times, and they won the title in 1997.
"The Flight Team gives students an outlet to compete using their training. It is invaluable in building their confidence," he said.
He says he feels a strong sense of pride knowing that in his 14 years with the College, he has put graduates into jobs all over the world.
"It's one of the most satisfying and rewarding feelings anyone can have, knowing that you had a part in your student's success," he said.
— Katherine Joss
More Academics Articles