---
Cultural Spotlight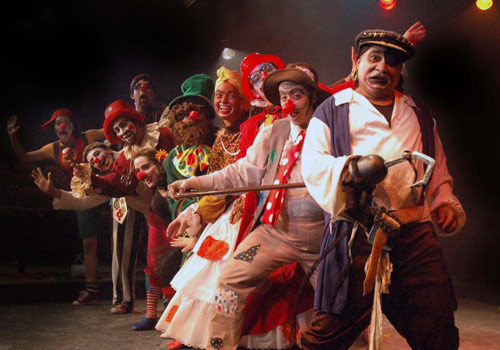 Prometeo's international explorations in theater
Florida Center for the Literary Arts' Prometeo Theatre is taking one of its award-winning productions on the road.
The theater troupe will present Yo me llamo Virgilio Piñera at the fourth annual UCSUR International Theater Festival for Cultural Diversity in Lima, Peru. Organized by Universidad Científica del Sur, the event unites students and professional dramatists from different parts of the world.
"Students will be exposed to a world of opportunities at this festival," said Joann Yarrow, director of Prometeo. "In addition to presenting Piñera, they will also take part in seminars, workshops and master classes."
The entire cast will make the trip to Peru, including eight second-year students in the professional actor training program; Yarrow; Liliam Vega, professor and director of Piñera; and Carlos Cedano, the set/lighting designer for the production.
"This free travel-abroad experience is not offered by any other conservatory-style actor's program, anywhere," Yarrow said. "It is incredibly exciting for all of us to have been selected."
This is not the first time that Prometeo has traveled to another country. In 2005, the company was invited to attend the International Hispanic Theater Festival in Santo Domingo, Dominican Republic.
"Presenting work to our international peers and viewing others' work is a vital part of the educational experience," Yarrow said.
In addition, being a part of this Festival presents a real opportunity to meet and work with international theater professionals. Students can collaborate with actors, directors and dramatic intellectuals from the global theater community.
Another key component of the UCSUR Festival is developing awareness of diverse cultures and building an appreciation of heritage. By bringing young theater students from around the world together in one place, respect and tolerance are naturally developed, as is a healthy exchange of global artistic practices, techniques, ideologies and innovations.
— Katherine Joss
More Cultural Spotlight Articles