---
Cultural Spotlight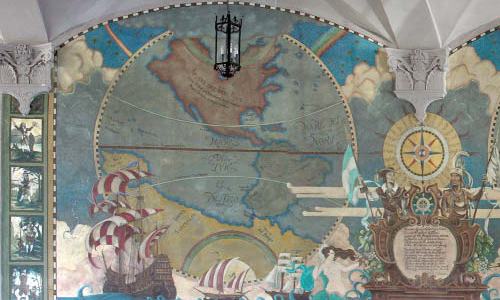 'New World' mural restored at MDC's Freedom Tower
On the first floor of the Freedom Tower at Miami Dade College hangs the 60 by 20 foot "New World" mural.
The mural is a re-creation of what remained of an original tapestry from the 1920s. After 50 years, this iconic work – a beautiful symbol of the meeting of the Old World and the New World – was in shreds. During a restoration of the Freedom Tower in 1987, a group called the Miami Artisans brought new life to the piece.
MDC's Art Gallery System recently commissioned another restoration of the mural. The Evergreen Restoration Group of New York stabilized the surface, cleaned away mold and other contaminants, and restored missing elements, bringing the mural close to its original condition.
The "New World" mural is a symbol of our shared heritage. It has been hidden to most people for more than two decades, and many do not know of its presence. It has now been restored by MDC, which intends to return it to its proper stature as a visual reference of Miami's immigration icons.
The mural's center image presents Ponce de Leon and the Tequesta chief displayed in front of a map of the New World. They are flanked by symbols of discovery, power, myth and adventure. Galleons rigged for full sail end the corners of a pyramidal layout hidden by the imposing circles of the map background. The mural is a fantasy celebration of unity and fate. Mermaids, fruit, fantastic sail boats and galleons, Conquistadors with muskets and native Indians in canoes set the scene for half a millennium ago.
The mural celebrates the arrival of Europeans in America, a likely reason for its original commission when the Freedom Tower was built in 1925. It would become an important point of reference for Cuban immigrants.
The color scheme allows the viewer to see the large painting as a whole. Cool blues and aqua variations appear lively over the earthtones of the map. A perimeter with a checked pattern in brown and cream encloses the entire work and separates and highlights the maps within.
The Miami Artisans were a group of artists who worked for the Coconut Grove Playhouse as scenic painters, also working in the summer months on restoration and decorative projects all over South Florida.
The "New World" mural was an off-season project, one of many around the city. The group claimed copyright of the mural at the Library of Congress in 1989.
Miami Dade College inherits this now truly public artwork. The mural proved itself worthy of restoration and although it is a replication of the original 1920s version, with contemporary rendering and interpretations, it is a treasure to discover inside the Freedom Tower.
As the project of turning the Freedom Tower into a cultural center for Miami evolves, the iconic historical elements of the building will become important references for a better understanding of the city's history.
— Source: William Mark Coulthard and Ana Bikic of Trompushka Studios.
More Cultural Spotlight Articles