COVERSTORY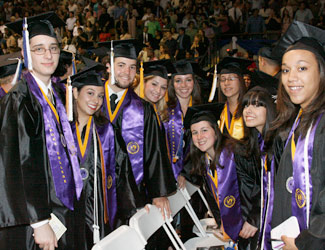 On May 2, Miami Dade College will offer heartfelt congratulations and bid adieu to the class of 2009 at six commencement ceremonies throughout Miami-Dade County. MDC will graduate more than 9,000 students.
MDC's District Board of Trustees recently honored College alumnus and former MDC Foundation board chair, Sheldon Anderson, for his leadership and support of the College. Anderson is seen here (left) with MDC President Dr. Eduardo J. Padrón (center) and Board of Trustees Chair Helen Aguirre Ferré (right).

Dr. Jorge S. Barnés, the associate dean of academic affairs at the Pontifical University of Salamanca, met recently with MDC President Dr. Eduardo J. Padrón to promote collaborations between the two institutions.

Branford Marsalis, a terrifically accomplished jazz saxophonist from a musically blessed family, exudes a grace and adventurous spirit all his own. He and his tight-knit quartet visited South Florida as part of the College's Cultura del Lobo Performing Arts series.

Miami Dade College has a long tradition of utilizing technology as a teaching tool, as seen here. When professor William Hoskins introduced the Moog synthesizer to South Campus students in 1970, the wood-paneled, multi-wired machine was the latest and greatest in electronic music production.
FEATURES