COVERSTORY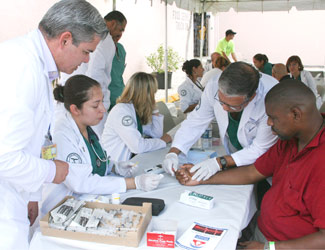 A new clinic operated by Medical Center Campus and the Miami Rescue Mission provides a safe place for 1,400 people to get primary clinical care.
U.S. Rep. Mario Díaz-Balart recently presented Miami Dade College with a check for $142,500 in federal funds to enhance the Kendall Campus Environmental Center. The money will be used for infrastructure improvements, such as placing solar panels on the 9-acre preserve.

Miami Dade College President Eduardo J. Padrón recently hosted Dr. Mark Rosenberg, the newly appointed president of Florida International University, at the MDC District Offices at Wolfson Campus.

William R. Gil, vice president of programs at the Congressional Hispanic Caucus Institute; actor Wilmer Valderrama; U.S. Rep Ileana Ros-Lehtinen, an MDC alumna; and Dr. José A. Vicente, president of MDC's North and West campuses, at a North Campus college planning event for high school students.
FEATURES