COVERSTORY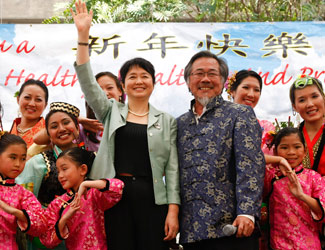 Confucius, the greatest philosopher and educator of ancient China, emphasized the importance of education and study. In his name, Confucius institutes, non-profit public institutions, have been established around the world to promote knowledge of the Mandarin language and culture, particularly in the context of understanding modern China today.
Dr. Eduardo J. Padr ón and U.S. Congressman Dave Obey, chairman, House of Appropriations Committee, during Obey's recent visit to Miami.

Singer/superstar Juanes and Dr. Eduardo J. Padrón at MDC's 50th Anniversary planning meeting.

MDC President Padrón and Gerado Rivera during a recent trip to aid the people of Haiti.

MDC President Eduardo Padrón; Hilda L. Solis, U.S. Secretary of Labor; Arne Duncan, U.S. Secretary of Education; and Melinda Gates, co-chair of the Gates Foundation, during the Univision press conference at the National Press Club in Washington, D.C.

Dr. Padrón and Ken Salazar, Secretary of the U.S. Department of Interior and fromer U.S. Senator, at Vice President Joe Biden's home.
FEATURES