COVERSTORY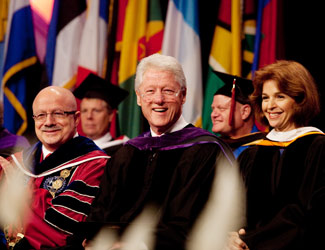 While addressing MDC's class of 2010, former President William Jefferson Clinton spoke about his first time visiting Miami Dade College. "The school was only 32 years old, and I came back again as President because I thought that this institution, as much as any college in America, symbolized our future," said Clinton.
During a recent visit to Miami, President Barack Obama meets with Dr. Eduardo J. Padrón.
Speaker of the House Nancy Pelosi and Dr. Eduardo J. Padrón at Speaker Pelosi's reception at the Capitol.
U.S. Secretary of Homeland Security Janet Napolitano and Dr. Padrón at a White House reception in early May.
At the annual meeting of the Association of American Colleges and Universities, Board Chairman Dr. Eduardo J. Padrón met with U.S. Undersecretary of Education Martha  Kanter, Lumina Foundation President Jamie Merisotis, Wheaton College President Ronald A. Crutcher and AAC&U President Carol Schneider.
Congressman Mario Díaz-Balart (R-Fla.), MDC President Eduardo Padrón and Congressman James Oberstar (D-Minn.) at a meeting of the U.S. Congressional Committee on Transportation and Infrastructure held at MDC. Oberstar is the committee chairman.
FEATURES