---
Making Their Mark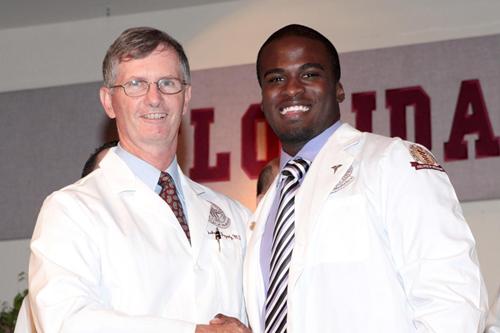 Honors College Put Med Student on Road to Leadership
The education Geden Franck received at MDC's Honors College went far beyond academics.
Franck, now the vice president of Florida State University's medical school class, credits Honors College Dean Alexandria Holloway for giving him all of the tools that he needed to succeed.
"She mentored me," said Franck, who went on to earn a bachelor's degree in biology from Emory University in Atlanta. "Because of Dr. Holloway, I changed the way I dress, the way I present myself. I learned about etiquette and how to be a professional."
"The Honors College gave me a foundation and nurtured me into the student I am today. There were many times at Emory when I had one of those 'aha' moments where I would realize why they taught me certain things at Miami Dade College."
Franck said the Honors College helped him develop his skills in numerous areas, including leadership, problem solving, critical thinking and test-taking.
"The Honors College taught me everything I needed to know about the professional world," Franck said. "I left Miami Dade College with a different mindset. It made me realize that we are always being watched and that we have to present ourselves accordingly."
Franck said attending MDC gave him another huge advantage over his college friends in Atlanta.
"Some of my colleagues who attended Emory for four years have a lot of debt from college loans," Franck said. "Because of Miami Dade College, I was able to get the same degree of the highest quality as they got but for half the price."
— WV
More Making Their Mark Articles