---
Making Their Mark
MDC Dean Receives Prestigious Fulbright Grant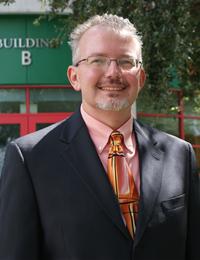 Dr. Jeffery A. Thomas
Dr. Jeffery A. Thomas, Academic and Student Affairs dean at MDC's Homestead Campus, has been selected for the Fulbright Specialist Program, part of the international educational exchange program sponsored by the U.S. government and world-renowned for its prestige and commitment to international partnerships.
During his time abroad this spring, Thomas will travel through Russia and conduct research aimed at expanding international relations in higher education.
"We are very proud of the honor Dr. Thomas received," said Dr. Jeanne F. Jacobs, Homestead Campus president. "It is quite an honor to receive a Fulbright Award. Not only will Dr. Thomas make a great contribution, but he will also learn about other higher education institutions, which will be valuable to the College."
The Fulbright Program, established in 1946, currently operates in 155 countries. The Specialist Program is a competitive, merit-based program that sends U.S. faculty and professionals to overseas academic institutions to serve as expert consultants on topics such as curriculum, institutional planning and faculty development.
In addition, MDC has a long-term relationship with Fulbright, having served for years as a site for its annual Fulbright Gateway Orientation, which welcomes foreign Fulbright graduate students to the United States before they begin their studies in colleges and universities across the nation.
— NM
More Making Their Mark Articles