---
Making Their Mark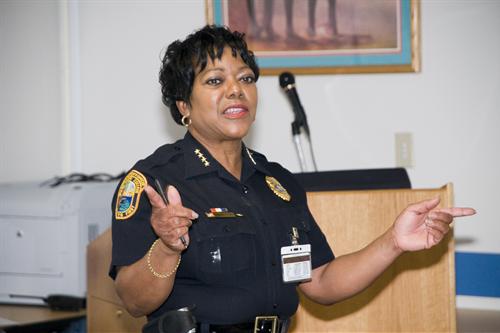 MDC Public Safety Chiefs to Lead National Organization
Therese Homer, chief of Public Safety at Miami Dade College, recently was elected president of the Historically Black Colleges and Universities Law Enforcement Executives and Administrators (HBCU-LEEA).
"It's very humbling to be chosen as president of an organization rooted in such a rich heritage," said Chief Homer, who also is a graduate of an HBCU school, Tuskegee University in Alabama. "They were ready to move from one level to the next, and they liked my innovative ideas."
The national organization, made up of police chiefs, executives and security directors from the 105 HBCU institutions around the country, was established in 2000. Its mission is "to protect and secure all students, faculty, staff and guests of all HBCU institutions."
Homer said that her new position also provides an "opportunity to highlight MDC, which is a minority-servicing institution, and what we're doing here."
She came to MDC in 2006 as a 30-year veteran municipal police officer. Her longtime goal has always been to impact the lives of young people.
"The administration has allowed me to do some innovative things," said Homer, who started a crime watch program on North Campus through which students can receive community service hours.
"It has all been very rewarding," Homer said.
— PUR
More Making Their Mark Articles