---
Cultural Spotlight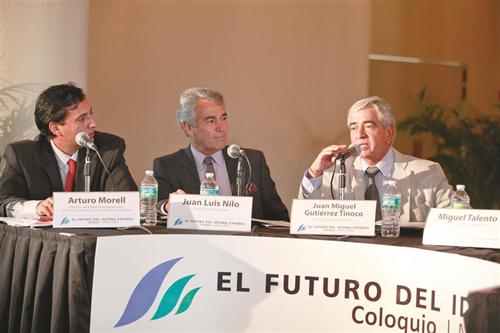 Exploring New Horizons of Spanish Language
At the forefront of literary creativity and relevant linguistic research, The Center for Literature and Theatre at MDC partnered this summer with the Ibero-American General Secretariat (SEGIB) in Madrid, Spain, to present an International Colloquium: The Future of the Spanish Language.
Hosting diplomats and ministers of culture and education from Ibero-American countries, the colloquium analyzed the current and long-term role of Spanish on politics, economics, business and technology while also exploring its role in the realm of social networks and other high-tech communications.
Linguistic Turning Point
"We are at an important juncture in the development of the Spanish language," said Center Director Alina Interián, who noted that recent U.S. Census data has shown a rapid increase in the use of Spanish across the nation and particularly in Florida. Home to 4.2 million Hispanics, Florida in the past decade has seen a 60 percent increase in the number of Hispanics, who represent 22 percent of the population.
The colloquium focused on the use and development of Spanish language and initiatives in three main areas: public policy, institutional agendas and diplomacy.
The well-attended, two-day event at the National Historic Landmark Freedom Tower at MDC built upon work undertaken by the International Congress of the Spanish Language, which has held annual conferences since its inception in 2007. The MDC conference also formed part of yearlong festivities celebrating The Center's 10th anniversary.
United Yet Diverse
Artistically framing the colloquium's intellectual discussions was a monthlong photo exhibition at the Freedom Tower entitled IberoAmerican Expression: From Solitude to Solidarity. The contemplative photos of everyday people showcased the cultural richness of regions that maintain their own unique characteristics while also sharing enormous similarities with one another.
"The people in these photos reflect a simple but permanent light," said Leonor Esguerra, director of Cultural Affairs for SEGIB.
"And the exhibition's name – 'From Solitude to Solidarity' – is what we are seeking in our IberoAmerican space, which is cooperation through action."
— BK
More Cultural Spotlight Articles