---
Features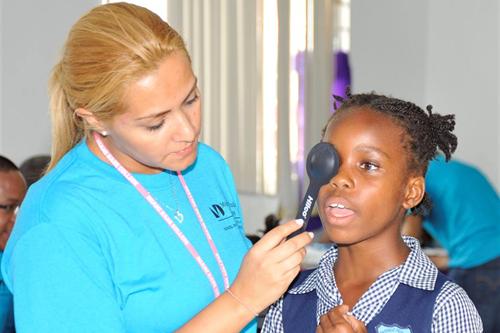 Medical Campus Students Create Clinic
Armed with suitcases full of donated equipment and supplies, their classroom knowledge and a passion to help others, nearly two dozen MDC students traveled to the central Jamaican town of Mandeville this summer to offer free dental, vision and health services to more than 900 people.
For three days, the dedicated group from MDC's Dental Hygiene, Vision Care Technology and Physician Assistant programs worked tirelessly examining patients in a makeshift clinic in this mountainous area of the country. From young school children to the elderly, people arrived in droves for check-ups, dental cleanings and eye exams.
Fulfilling a Purpose
"We saw some tremendous need," said Dr. Susan Kass, program coordinator and professor in the College's Dental Hygiene Program. "Scores of people waited in the rain for hours to be seen because this was their only access to health care."
The young MDC volunteers overcame many obstacles themselves, making the best of their provisional setting and limited supplies while handling the endless demand for services with patience and enthusiasm.
"It was truly hard work, yet the students never complained because they saw the good work they were doing and the high level of appreciation of those at the clinic," Kass said.
Inspiring Journey
During their nightly reflections, the MDC team agreed that both academically and personally, the Jamaican experience was one that had transformed them.
"They gained so much knowledge through this hands-on trip that could never be replicated in the classroom," Kass said. "Their professionalism and competency increased tremendously."
Noting how caring for those in need offers new insights into the healing professions, Kass added, "It was such an enriching experience. Truly a joy to see our MDC students in action."
— AMS
More Features Articles