---
Features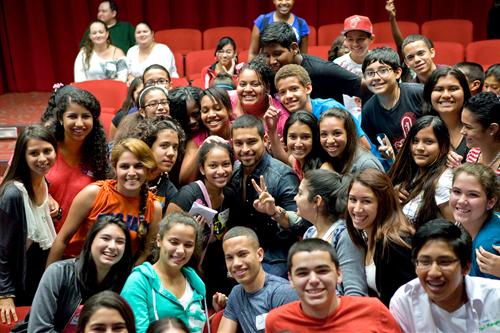 Creating Tomorrow's Leaders Today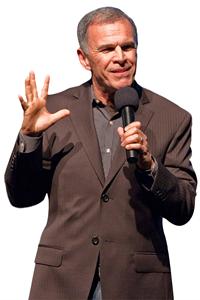 At MDC's Ready to Lead conference, actor Tony Plana delivered opening remarks.
Motivated by wise words from actors Wilmer Valderrama and Tony Plana, hundreds of high school students left the recent Ready to Lead (R2L) conference at MDC's North Campus inspired to take on the world.
R2L, a collaborative effort of the College and the Congressional Hispanic Caucus Institute (CHCI), prepares Latino students for college by encouraging them to complete high school, empowering them to serve in their communities and showing them the ways college credentials improve future careers.
Talking With Stars
Valderrama, who is R2L's official spokesperson and starred in the hit TV series That '70s Show, served as keynote speaker at the closing plenary session. While he has spoken at MDC in previous years, this was the first visit for Plana, who boasts dozens of roles on notable TV shows including The West Wing, 24, Desperate Housewives and Ugly Betty. Plana delivered opening remarks, and both actors participated in interactive discussions with the more than 250 high school students who attended.
"Each year, the Ready to Lead conference continues to instill in our community's youth the importance of college completion and civic and personal responsibility," said Dr. José A. Vicente, president of MDC's North and West campuses. "Our partnership with the Congressional Hispanic Caucus Institute in this annual event provides valuable early college planning and related enrichment aimed at propelling our youth toward successful college and career goals."
Insights From Local Leaders
CHCI's signature "Mentoring Power Hour" served as an outlet for MDC student leaders, CHCI alumni and local professionals to connect with high school students to discuss and share information about personal and civic responsibility. This is the Institute's fourth consecutive year hosting Miami R2L at MDC's North Campus.
During the conference, local high school students also received hands-on training in college planning, financing a college education and developing leadership skills. In addition, a stimulating MDC Expo gave students and their parents an opportunity to meet with faculty and student leaders to obtain first-hand information about MDC's 300-plus academic programs and 11 bachelor's degree programs, including the recently added Biological Sciences and Early Childhood Education bachelor's degrees. Attendees also learned about the College's unique American Dream Scholarship, which covers in-state tuition for two years of college at MDC for all high school graduates from Miami-Dade County who meet the requirements and may not have sufficient financial aid.
— Staff Report
More Features Articles