---
Features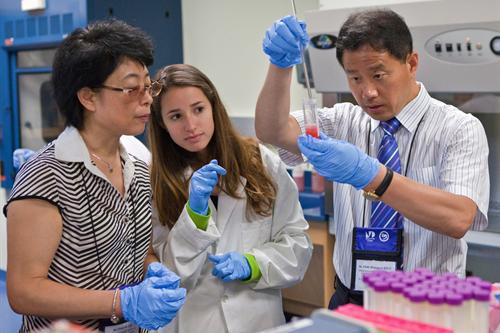 Sharing Insights Around the Globe
A delegation from China's Heilongjiang Province recently visited South Florida to draw upon Miami Dade College's internationally acclaimed academic expertise, taking part in an in-depth training session on the College's wide-ranging programs.
The five-day visit, organized by MDC's Confucius Institute with the support of the Office of Career and Technical Education, provided extensive first-hand knowledge of program curriculum and organizational structure for a large contingent of vocational school principals and leaders of the Heilongjiang Department of Education. Members of the delegation came from schools covering a broad variety of disciplines and learned valuable lessons to apply back in China through informative campus visits, lectures and hands-on demonstrations.
"The purpose of their visit was to learn from the American approach to vocational and workforce training and upgrade the Chinese educational system," said Dr. Jim Yu, director of MDC's Confucius Institute.
The delegation toured the College's renowned Miami Culinary Institute and took part in presentations about its culinary and hospitality programs. They also visited North, Kendall and Medical campuses and the School of Aviation at Miami International Airport to learn about MDC vocational and professional programs and in-demand job fields, including law enforcement, nursing, architecture, physician assistant and air traffic control, among many others.
"As a result of the training here at the College, they plan to send additional groups and make MDC a training base for advancing their vocational education programs," Yu said, adding that future groups would also expand to include more administrators and teachers from the province. "This is a great start to a long relationship with the Chinese educational community."
— AMS
More Features Articles