---
Features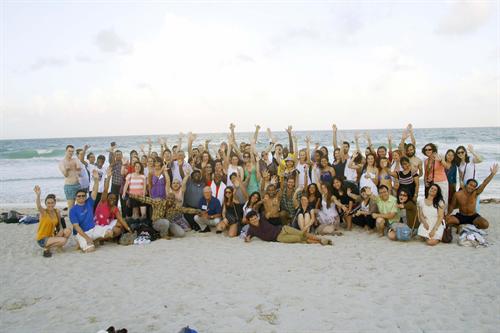 U.S. Culture 101
Every summer, as a host institution for the U.S. Department of State's Fulbright Gateway Orientation Program, MDC becomes home base for a life-changing week of exploration and adaptation for some of the world's brightest minds as they gain their first taste of America.
The Fulbright International Educational Exchange Program, with assistance from the Institute for International Education, enables students and professionals from around the world to deepen their expertise through study, research and work at U.S. universities.
Employing years of experience, smart planning and a lot of heart, MDC faculty members support the endeavors by providing the new arrivals a multidimensional introduction to life in the U.S. with informative lectures, group discussions and exciting outings, all leading to lasting friendships.
Memorable Encounter
"It is such a unique phenomenon to have all of these enthusiastic, intelligent people from all over the world come together and share these experiences," said MDC English Professor Maureen O'Hara, who directs the Gateway Program along with Professor Dorothy Avondstondt, assistant director.
Orientation lecture topics run the gamut to cover various angles of life stateside, from U.S. history and jazz to understanding academic culture and avoiding culture shock. Fulbrighters enjoy meals at local hotspots, such as Nikki Beach and The Knife, as well as special excursions, including an evening boat tour on Biscayne Bay. Discussions are lively, friendly and often humorous as participants share their perspectives and experiences, thanks to the comfortable yet stimulating environment fostered by Miami Dade College.
Self-Discovery
Given the mix of people and circumstances, the orientation goes well beyond shedding light on U.S. lifestyles to highlight global differences and similarities. And, by sharing their stories, Fulbrighters also learn a lot about themselves.
Nobody knows that better than O'Hara, who frequently receives emails from program participants.
"I discovered my very own identity during the orientation in Miami," said Dalia Ghosh Dastidar, a graduate student from India studying biological sciences at the University of Northern Colorado.
Kays Fattal, a Fulbrighter from Syria studying at the University of Maryland, also attested to the lasting impression of his experience in Miami: "Thanks for giving us unforgettable memories that we will hold for our whole lives and tell our grandkids about."
— MR
More Features Articles