---
Features
Prepared for the Future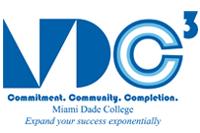 The College's MDC3 initiative is a crucial element in helping students achieve success and complete their degrees.
The College's vital role in helping its students advance to four-year schools recently was lauded at The College Board Prepárate Conference 2012: Educating Latinos for the Future of America.
At the Miami event, the prestigious Modelo de la Comunidad (Community Model) award was bestowed upon MDC President Dr. Eduardo J. Padrón, who delivered remarks at the opening ceremony. César Conde, president of Univision Networks, also received the honor, which recognizes outstanding leaders who have contributed to increased Latino student achievement in education and who have had a positive impact on the community.
Shared Responsibility
Conference panels drew upon the expertise of top leaders from local institutions, including MDC Provost Dr. Rolando Montoya and MDC Homestead Campus President Dr. Jeanne F. Jacobs, who offered an insightful presentation titled "Whose Responsibility Is It Anyway? Helping More Students Transfer from a Community College to a Four-Year Institution."
Answering the presentation's underlying question, Jacobs said, "It is our responsibility and a call to action." She then showed how MDC, under Padrón's strong leadership, has employed its new MDC3 initiative as a crucial element in helping students achieve success and in increasing completion rates.
Structured Pathways
"With MDC3, our focus is to help students successfully transition from high school to college completion," she said. "We are collaborating with high schools on college readiness and with universities to  create more structured pathways so students connect earlier with their majors and are better prepared for the next academic step."
MDC3 has also created a strong new framework giving the College the tools it needs to take a closer look at the experiences of its students and to work toward increased integration of programs and support services.
— Staff Report
More Features Articles