---
Features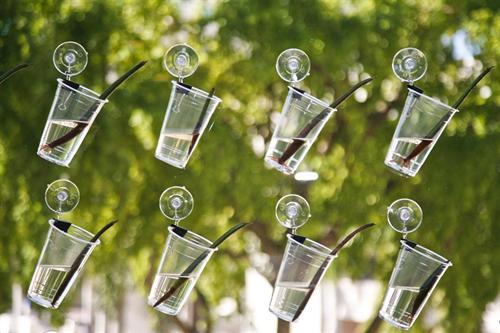 Seedlings of Change
Moved to action after learning about the withering state of South Florida's ecosystems, more than 200 Miami Dade College students recently took matters into their own hands to help restore Biscayne Bay. Combining their passion for the environment with a love of art, they created beautiful art installations of mangrove seedlings growing in clear containers that adorned the windows of buildings at five of MDC's seven campuses, gracefully sprouting roots and leaf shoots before being transplanted into the wild.
The brainchild of artist Xavier Cortada, this eco-art endeavor first began in 2006 as a way to help promote coastal reforestation in the region. While Cortada has worked with MDC students before, the participants in this year's mangrove project first learned about the artist last summer during the Water Clock Project Club at Kendall Campus directed by MDC Psychology Professor José Guntin. Inspired by the elegance and mission of the artist's work, the students brought the Reclamation Project to MDC and a semester-long process began collegewide.
Multidisciplinary Talents
With the guidance of MDC's Earth Ethics Institute (EEI) and in collaboration with the Miami Science Museum, the MDC students learned important lessons about aesthetics, mangrove restoration, civic engagement and social transformation. Each student brought a unique set of skills to the project. At Wolfson Campus, an art appreciation class installed the mangrove seedling exhibit and set up a complementary component in the library depicting the life cycle of mangroves. An accounting major in an English class wrote a research paper on the financial benefits Miami-Dade County derives from maintaining healthy mangroves. An architecture major explored how Miami's vibrant coastline plays a vital role in local development projects, boosting real estate values and the region's appeal to tourists around the globe. Both students shared their discoveries with classmates, faculty and the public at an MDC Sustainability Fair in December.
Noteworthy speakers offering their insights in the varied events throughout the semester included Miami Science Museum's Reclamation Project Director and Naturalist Fernando Bretos, who presented an in-depth look at mangrove ecology, and Cortada, who discussed the intricate connections between science, art and civic engagement that form the theoretical framework of his eco-art.
The Power of Collaboration
Impressed with the scope of the students' efforts and their team approach to problem solving, EEI's Director Colleen Ahern-Hettich said, "Sustainability is all about successful collaboration, and the MDC students proved themselves to be great at it."
Noting how higher education builds upon the talents and insights of many, she added, "The MDC Reclamation Project is a perfect interdisciplinary project promoting a fuller understanding of the importance of healthy, natural ecosystems and how they support our human community. Our collaboration with the Miami Science Museum, Xavier Cortada and his Reclamation Project not only deepened our faculty's and students' understanding of the importance of the mangrove coastline to Miami, it also helped restore some of it as well."
— BK
More Features Articles