---
Academics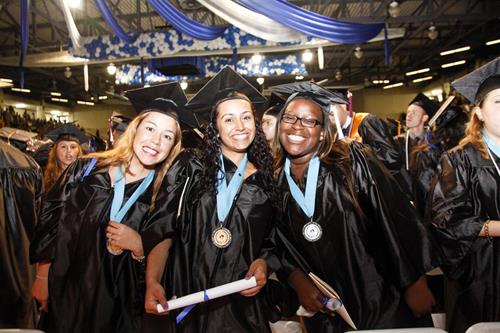 Associate Degree in Hand
Students who didn't complete an associate degree before transferring to a state university now may be able to surmount that hurdle thanks to a generous grant recently awarded by the Helios Education Foundation through  the Florida Department of Education.
The "Credit When It's Due" grant enables MDC and other colleges to partner with state universities to increase the number of associate degrees awarded by "transferring back" those courses students may have taken at a state university that would apply to completing an associate degree. During the two-year grant period, the program will test new procedures to make this process more efficient and systematic. Starting with 100 eligible MDC transfer students to Florida International University, the grant program will help create a sustainable administrative system for awarding degrees to students who qualify.
Automating the Process
"Our vision is to look forward and make this process automated," said Miami Dade College Director of Enrollment Management Dr. René García. "Once we show that this can work at a certain scale at MDC, we can look at working with other state universities to expand this effort."
Multiple research shows that eligible transfer students receiving an associate degree while working toward a bachelor's earn more income, have more work opportunities and increase their likelihood of college completion.
Opening Doors
"Evidence from The College Board, ACT and the Department of Labor shows that earning an associate degree opens more doors than simply 'two years of college.' They are not the same thing," García said. "Employers often compare someone who completed a program versus someone who has two years of what might look like scattered classes. Earning an associate degree benefits students and the labor market."
By earning a degree instead of merely accumulating credits, students "protect their college work," García said, since some institutions have policies stating credits expire after a certain time if they are not part of a formal degree.
This grant is administered through the Florida College System Foundation. Helios Education Foundation is one of several sponsors, which include the Lumina Foundation, the Kresge Foundation and the Bill & Melinda Gates Foundation. The Office of Community College Research and Learning based at the University of Illinois will collect data on the results in order to determine the overall impact on students' degree completion.
— JG
More Academics Articles