---
Academics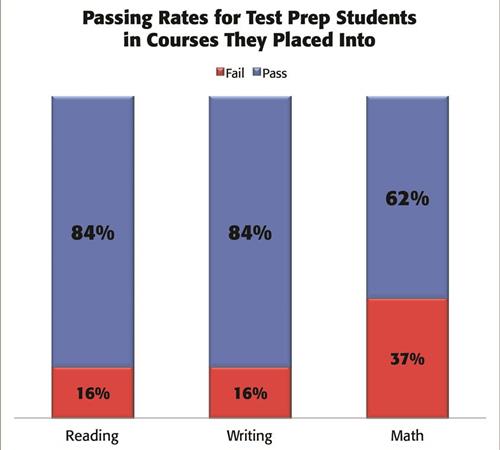 Fast-Tracking Student Success
College readiness is Topic A these days, with numerous reports from national outlets centering on the problem of the overwhelming numbers of youth graduating from high school without the ability to function at the college level. As a college that extends the opportunity of education to all who seek it – fresh out of high school or not – Miami Dade College has a wealth of experience in endeavors to help students grow into capable and confident college students. MDC continually takes proactive measures to improve its various approaches to developmental education, or DevEd, as it is more commonly known. And these innovative DevEd measures are producing outstanding results. In fact, two-thirds of MDC graduates who are now excelling in every imaginable field began their college studies in MDC's DevEd classes.
At Miami Dade College and other Florida public colleges, course placement is guided by scores on the Postsecondary Education Readiness Test (PERT). Students who place below the college-ready threshold are required to take remedial courses in math, reading or writing in order to be better prepared to succeed in college-level courses. Most students whose scores indicate that remedial classes are recommended are not fresh out of high school. However, nearly half of first-time-in-college (FTIC) students ages 17 to 19 entered the Florida College System needing developmental education in math and a third needed it in reading and writing.
Targeted Remediation
It can take up to two years for a student to get through DevEd courses before entering courses that offer college credit. To improve retention, MDC is creating cutting-edge ways for getting students through remedial courses more quickly. These successful strategies include Test Preparation Boot Camps (see sidebar below) along with modular, accelerated and contextualized curricula. In addition, students can concurrently enroll in some college-level classes and participate in targeted student support groups.
"We've found that a lot of students in DevEd classes have a difficult time making it through a typical 16-week format," said Dr. Alanka Brown, district director of academic readiness for MDC's Student Achievement Initiatives. "To prevent them from getting emotionally drained, shorter, more intense courses are much more effective. These classes keep students engaged and get them moving on to college-level courses."
In pilot phases, MDC's strategies in this area have shown excellent promise. Modular curricula enable students to tackle their specific weaknesses through the use of diagnostic software. That saves them the time and frustration of sitting through a 16-week course in which they may spend precious effort on areas they already have mastered.
Taking the Express Lane
In intensive prep courses, students are not only passing their classes but getting higher grades than average, too. Started as an experiment at MDC's Homestead Campus, accelerated curriculum courses are making it possible for students to complete all their prep courses in one semester. The series of intensive courses in reading, writing and math require commitment on behalf of both students and instructors, but the rewards are tangible. And demand is growing for these classes, which have been dubbed Prep Express (eight weeks) and Super Prep Express (two four-week courses plus one eight-week course, also known as 4/4/8).
"The Prep Express students do as well and in some cases outperform their peers" in college-level courses, said Professor Meghan Clovis, who helped pioneer the math courses at Homestead Campus. "They're not just passing the class, they're scoring higher on collegewide final exams."
Although speedier than the traditional route, Super Prep Express courses are no walk in the park. Once enrolled, students must make it through the entire 4/4/8 sequence. "If you miss one day of class, you're behind a week," Clovis said. To support instructors teaching the courses for the first time, seasoned faculty members provide guidance and mentoring.
What's more, the students love the classes. "I've had students who went through Prep Express come and ask, 'What other courses do you have like this?' " Clovis said. As a result, Homestead began offering reading and writing classes in the same format. Now Prep Express is spreading to other campuses as well.
Boot Camp Rocks
Through weeklong Test Preparation Boot Camps in reading, writing and math, students can prepare to test up a level or test out of remediation altogether. This accelerates their entry into college-credit courses and also boosts their chances of succeeding in those courses.
Compared to other students  whose study habits were unknown,  test prep students made substantial gains on PERT. According to data from the Office of Institutional Research, these improvements were particularly noticeable in math, which is the most difficult area to remediate. Even though the math students, as a group, started out averaging less on the PERT than the non-test prep students, a larger percentage of them improved their placement upon retaking the exam.
More important, test prep students went on to do remarkably well in the classes they placed into following the PERT. In reading and writing, 84 percent passed, and in math, the passage rate was 62 percent (see chart).
Grouped for Success
Other innovations based on cohort models are underway. To boost student engagement, some courses are designed with contextualized curricula. For example, students pursuing one area of study, such as health studies, are grouped together to receive DevEd instruction that draws directly on their chosen field to apply skills they are learning. Cohorts are also used in student support groups that receive additional advisement, tutoring or other assistance to help them advance to college-level courses.
— MR
More Academics Articles