---
Academics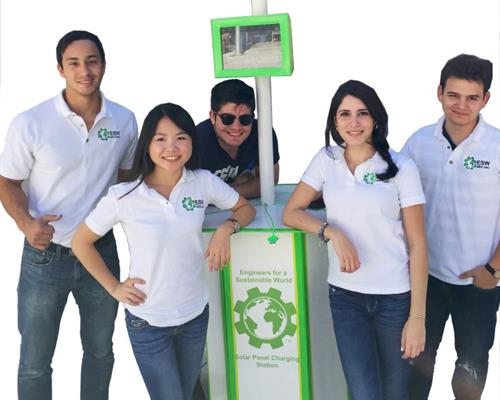 All Charged Up
When InterAmerican Campus students Juan Balcázar, Meily Wu Fung and Mirtha Echeverría were offered the unique chance to study at Narrow Ridge (story at left), they were also presented with a challenge: Return to MDC and create an on-campus project that both reflects what they learned and helps increase environmental awareness in the community.
The three decided to take on one of the more aggravating inconveniences of a high-tech world: dealing with dwindling mobile phone batteries. The result was an innovative and visually captivating portable cart that uses solar energy to recharge the batteries of those who have overindulged in power-hungry apps.
"I came up with the idea because students spend long days on campus away from home, so people are always asking friends if they have compatible chargers," said Echeverría.
To complete the project, Balcázar, Echeverría and Wu Fung marshaled the talent and strengths of three clubs where they hold leadership roles: the YES! Club, an environmental group where Wu Fung is president; Phi Beta Lambda (PBL), a business club in which Balcázar is president; and Engineers for a Sustainable World (ESW), led by  Echeverría and Wu Fung serving as president and vice president.
Tasks were divided in accordance with the core competencies of the groups, with PBL handling the financial aspects of the project, ESW executing the design and construction, and YES! – which makes heavy use of social networking channels – taking on the promotion and public relations responsibilities.
So far the cart has been a hit.
"Its vision is to establish a campus and community in which sustainable energy is a foremost consideration in students' awareness as it involves the everyday action of charging a wireless device," said Echevarría.
More Academics Articles