---
Powerful Partnerships
The White House Lauds the Work of Single Stop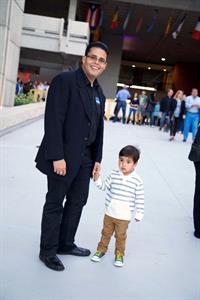 Single Stop at MDC made it possible for Rubén E. Gómez Jr. to complete his degree so he can improve his family's future.
Rubén E. Gómez Jr. had a lot to juggle as a student at MDC, and he worried that he might not be able to continue his studies.
Born in Nicaragua, he knew how tough it is to succeed in life without higher education. He remembers seeing children digging through garbage for food. Those early hardships have fueled his desire to eradicate poverty. The recent MDC graduate currently is completing a degree in political science and wants to work as a Foreign Service Officer.
He never would have made it this far without Single Stop at MDC, which helped him apply for the Supplemental Nutrition Assistance Program to feed his family and to receive Earned Income Credit to get above the poverty line. Being able to cover those basic needs allowed him to focus on his studies and complete his MDC degree. Recently he had the opportunity to show his gratitude at the Social Innovation Fund's 5th Annual Convening and Celebration held at the White House, which he attended with Elisabeth Mason, Single Stop CEO and co-founder.
Gómez, who is the former president of the MDC Kendall Campus Student Government Association, joined Single Stop at the White House to take part in the What Works Showcase, an interactive event to celebrate the fifth anniversary of the Social Innovation Fund. He had the opportunity to represent MDC and share how Single Stop changed his life for the better.
"They helped create a safety net so I could continue to attend school full time," he said. "I never missed a class."
Single Stop partnered with MDC in 2010 and has offices at several campuses. It offers a "One Stop Shop" for students to get connected for free to benefits. Services include a complete initial screening and help applying for government assistance programs, legal aid, financial planning, tax preparation services, referrals, and more.
To date, Single Stop MDC has leveraged more than $27 million dollars in benefits and services for students and immediate families and served more than 20,000 students.
"Single Stop to me is not just an organization that helps individual students like me," Gómez said. "It helps families, communities and, ultimately, the nation."
Learn more at mdc.edu/singlestop.
More Powerful Partnerships Articles