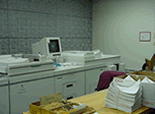 Welcome to the Medical Campus Mail Center web page. As part of Campus Support Services, the Mail Center is here to help you with all your postal needs. Please take a moment to learn about our services.


MISSION STATEMENT

The mission of Mail Center for Medical Campus is to provide the College with the most efficient and cost effective hard copy communications system for the College while maintaining security for personnel and property.


SERVICES



Medical Campus Mail
Mail for other campuses leaves the Medical Campus Mail Center at 12:00 am and mail from the other campuses arrives at 1:30 pm. There is a limit of four parcels to one destination if you have a larger shipment, please make arrangements by calling 7-4235.



Outgoing Mail
Outgoing mail is picked up at 3:30 pm. Please allow enough time for your mail to be processed by the Mail Center.



Public Schools Mail
Mail is sent to Wolfson campus where M-DCPS picks it up twice a week.



Campus Mail
Interoffice envelops should be used for all campus communications. It is imperative that the department designation and not room numbers be used. Correct campus should be included and not campus number. Misdelivered mail must be returned to the Mail Center immediately. Please correct the address if you have the information. It is the employee's responsibility to inform the Mail Center of any changes in location.



Distributions
Unaddressed memos can be distributed by the Mail center for you but an Internal Mail Distribution Instructions form must be completed. Distributions are available for faculty, faculty and administrators, staff or all. We only keep records of fulltime employees, so if you wish to reach part-time employees the necessary memos must be sent to the departments for internal distribution.


STAFF CONTACT INFORMATION

Shirley Garner
Supervisor
305-237-4365
sgarner@mdc.edu


GENERAL INFORMATION

Hours of Operation: 8:00 am. to 4:30 pm
Location: Room 1154
Telephone: 305-237-4235






Back to Top