Project ACE Faculty
Dr. Cynthia M. Schuemann is a faculty member at Miami Dade College-InterAmerican Campus where she teaches ESL and linguistics courses. She has been with the College for over 20 years. In addition to teaching, she is a respected textbook author, editor, and conference presenter. Her works center on the development of instructional materials designed to enhance the language foundations of ESL students and to tie into learning expectations of General Education courses. Her research interests include corpus linguistics, a field that studies large collections of authentic language samples and can inform decisions about which aspects of English vocabulary and grammar are most valuable for ESL students to learn.
Dr. Schuemann earned a B.A. in International Relations from the University of Wisconsin, Milwaukee, and an M.S. in TESOL and an Ed.D. in Higher Education Instruction from Florida International University in Miami, Florida. She contributes to the profession on the executive boards of  Sunshine State TESOL Organization, and Miami-Dade TESOL, as Past Co-Chair for the Materials Writers Interest Section of TESOL International, and as a representative on the Florida Community College EAP Consortium.
Dr. Schuemann has also worked on special assignments with English language students and their teachers in China, Mexico, Ecuador, Brazil, and Spain. Dr. Schuemann's recent publications include contributions to Teaching English as a Second or Foreign Language, 4th Edition with Heinle Cengage Learning (in press, Celce-Murcia, M. & Brinton, D. Eds.); The Encyclopedia of Applied Linguistics with Wiley (in press, Chapelle, C., editor);  The Michigan Series on Teaching Academic English in Two- and Four-Year Colleges and in Universities (University of Michigan Press, on-going); Ten Writing Myths: Applying Second Language Research to Classroom Teaching. (University of Michigan Press, 2008, Reid, J., editor); and the English for Academic Success Series (Heinle Cengage Learning, 2006).


Graciela Anrich, Ph.D.
Dr. Graciela Anrrich has been teaching in the ACE Project from its inception at Miami Dade College-InterAmerican Campus, where she has been on the ESL/FL faculty since 1989. As a child, she was one of 14,048 minors airlifted from Cuba to the United States in what became known as Operation Pedro Pan. Despite initial hardships, she reunited with her parents 8 months afterwards, having already learned English as a result of living with an American family in Syracuse, New York. Her academic credentials include Bachelor's and Master's degrees from Florida International University and a Ph.D. from Georgetown University. As a professor, she has always received the highest possible rating from her supervisors and consistently excellent evaluations from her students.


Miriam Frances Abety, Psy.D.
Dr. Miriam Frances Abety holds a Doctorate in Clinical Psychology and currently is a full-time faculty at Miami Dade College since 2004. She is the Lead Faculty for Honors College and is a member of the Earth Ethics Institute and the Leaning Outcomes Assessment Team. In addition, Dr. Abety is the Co-Convener for the Student Life Skills Courses. During her years working in clinical psychology, she has worked with domestic violence, substance abuse, trauma, women's issues and HIV/AIDS. Previously working as the Director of 16-bed Residential Substance Abuse monolingual Spanish-speaking program, Dr. Abety has worked with clients with co-occurring disorders as well as both victims of domestic violence and batterers.
Professor Dorothy Avondstondt is an Associate Professor of Miami Dade College (MDC). She was recently awarded an Endowed Teaching Chair for excellence in teaching. She has been the Assistant Director of the Fulbright Gateway Orientation Program at MDC for 7 years. She has a Master's degree in TESOL from Nova Southeastern University, a Specialist degree in TESOL from the University of Miami, and a study abroad certificate in French from IAU University in Aix-en-Provence, France. Prof. Avondstondt has had extensive teaching experience in Miami Dade County Public Schools, University of Miami Intensive English Program, private language schools with international students, English for business programs, and all levels of English for Academic Purposes (EAP) at MDC. She has lectured at International and Regional TESOL conferences, as well as MDC Conference Day on pedagogy and techniques of teaching a second or foreign language. She also has experience as a supervisor, trainer and flight attendant with Pan American World Airways. She has traveled extensively throughout the world, has knowledge of many other cultures, and speaks several languages. Prof. Avondstondt has been involved with several programs at MDC, the Global Education Commission, Learning Outcomes, Service Learning, Faculty Promotion and CASSC Committees. She wrote and taught in a Golden Apple grant project. She is Team Leader for Grammar and Writing and has done textbook editing and curriculum development. She is also certified as a member of Commission for English Accreditation (CEA) to evaluate other university ESL programs. She is currently teaching and developing curriculum materials in the ACE Program.


Patricia Nation, M.A.
Professor Patricia Nation has been a full-time faculty member in the Department of ESL and Foreign Languages at Miami Dade College-Wolfson Campus for 20 years. She earned an MA in Teaching English to Speakers of Other Languages and a Certificate in Linguistics at Florida International University. Besides teaching English for Academic Purposes (EAP), she has done teacher training in Brazil, has been involved in the establishment of the non-credit ESL and Foreign Language Program and the Integrated EAP Program at MDC-Wolfson Campus, and has contributed to the development of curriculum for Project ACE.


Manny Garcia, Psy.D.
Dr. Manny Garcia has been teaching at Miami Dade College (MDC) for over twenty years. Dr. Garcia teaches freshman and sophomore level psychology courses at the MDC-InterAmerican Campus. Dr. Garcia is a graduate of Miami Dade College where he earned his associate in arts degree in psychology. Dr. Garcia has also attended Florida International University, Nova Southeastern University and Carlos Albizu University where he earned his Bachelors, Masters and Doctorate degree respectively. Dr. Garcia also holds a post- doctoral Masters in psychopharmacology from Nova Southeastern University's School of Pharmacy. Dr. Garcia is a licensed clinical psychologist who conducts psychological evaluations, psychotherapy, and supervision for various private group practices and clinics in the community.


Adria Leal, M.A.
Professor Adria Leal is an instructor and librarian at Miami Dade College-Wolfson Campus. Her undergraduate degree is from St. Thomas University, and her Master's in Library and Information Science is from the University of South Florida. She is a member of the Florida Library Association and she is active in various college committees: co-chair of the Library Discipline Committee, member of the College Academic and Student Support Council (CAASC).
Professor Stephen Johnson has worked as an English as a Second Language and Foreign Language instructor for 17 years. During that time he has worked in Asia, Europe, South America, and in the U.S. in California, Texas, and Florida. Mr. Johnson has M.A. degrees in German and TESOL from the University of Alabama and is currently completing a Ph.D. program in Higher Education Policy at Florida Atlantic University. Prof. Johnson has taught ESL in a number of different settings, including vocational training, university and graduate school preparation, community college preparation, test preparation courses, NATO military programs, teacher training, and overseas high schools. Since 2004, he has worked as an administrator and language instructor with Miami Dade College. His research interests include equal access and retention of immigrant populations in higher education, corpus-informed language instruction, and instructional technology. Prof. Johnson has worked abroad with the Fulbright Teaching Assistant program in Germany, with the University of Alabama's teacher training program in Seoul, South Korea, and with a graduate student training program in Brazil. In addition to teaching, Mr. Johnson enjoys volunteer work in Central America and outdoor activities such as canoeing and biking in the South Florida area.
Project ACE at MDC-InterAmerican Campus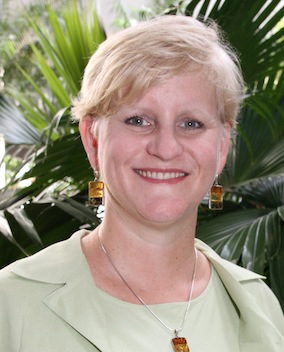 Michelle Thomas, Ph.D.
Chairperson
ESL/Foreign Language Department

Dr. Michelle Thomas is the Chairperson of the ESL Foreign Language Department at Miami Dade College-InterAmerican Campus. Dr. Thomas holds a Ph.D. in Teaching and Learning from the University of North Dakota. Her doctoral studies focused on the professional development of language teachers for international settings. She also earned an M.A. in Interdisciplinary Studies (Applied Linguistics) from Texas Tech University, and a B.A. in Latin-American Studies (Spanish and Portuguese) from the University of Texas at Austin.
Dr. Thomas has more than 15 years of experience working in higher education and specializes in projects related to language, culture, and access to education. She has taught courses in English for Academic Purposes, English as a Second Language, Spanish, Cultural Anthropology, Sociolinguistics, and Multicultural Education. Her current research interests pertain to policies at the 2-year college that create pathways to higher education for English language learners.
Project ACE at MDC-Wolfson Campus


Frank Quebbemann, M.A.
Chairperson
ESL/Foreign Language Department
Professor Frank Quebbemann has been the Chairperson of the Department of ESL & Foreign Languages at Miami Dade College-Wolfson Campus since 2007. He holds an M.A. in Linguistics-TESOL from the University of Illinois at Chicago. He is working on his doctorate at Florida International University in adult education, higher education, and research methods. He has been teaching and managing programs in the fields of ESL and EFL since 1980. From 1981 to 1993, Professor Quebbemann taught ESL, Linguistics, and Teacher Education courses in the Modern Languages Department of Javeriana University in Bogota, Colombia. He also managed the language teacher training program and the English for Specific Purposes (ESP) program there for five years. During that time, the entire B. Ed. curriculum for the preparation of English (ESL) teachers was revised and strengthened. In Chicago, he taught ESL at Triton College and National Louis University, and prior to joining MDC, he also taught in the Intensive English Program at University of Miami. At MDC, Prof. Quebbemann first taught Vocational ESL from 1995 to 2001. He also coordinated the program, worked on curriculum development and revision, and managed the VESL and Center for Workforce Education labs. From 2001 to 2003 he directed the e-Reach distance education project providing on-line synchronous and asynchronous training in Adult Basic Education, GED, and ESL to adults at various locations throughout Miami. He joined the faculty of the ESL & Foreign Languages Department in 2003, reaching the rank of Assistant Professor prior to becoming the chairperson.


Sandra Puello
New Student Center
Professor Sandra Puello has been in the field of education since she graduated from the University of Cienfuegos, Cuba, with a degree in Teaching English as a Second Language. After coming to the United States in 1998, she started working as an ESL teacher for the REVEST Program. In the past eight years, she has worked for Miami Dade College as a recruiter, career advisor, and currently as the advisor for the ESL/Foreign Language and Translation and Interpretation Department. She just completed a degree in Translation and Interpretation at Miami Dade College and will soon graduate with a Master's degree in Education to pursue her teaching career. She enjoys traveling, reading, and spending time outdoors.