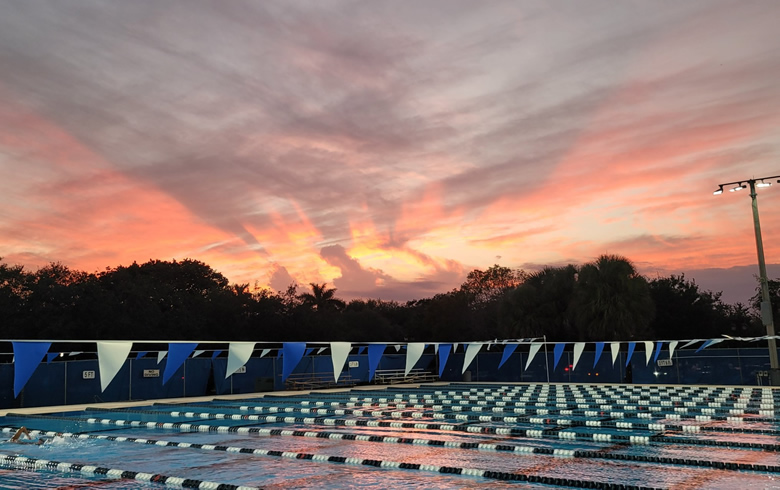 The Miami Dade College Kendall Campus' Aquatic Center features a 25-yard-by-50-metercompetition pool. When set up for short course, there are eight deep-water lanes for hosting swim meets. We also have a large shallow-water instructional area and the ability to accommodate water polo with the removal of lane lines and the placement of our two water polo goals.
Our facility also boasts a dive well that ranges from 7 feet to a depth of 16 feet at its deepest. The dive well currently offers one1-meter springboard, one 3-meter springboard, one 5-meter platform and one 10-meter platform, that are USA diving approved and maintained.
The crystal-clear 500,915 gallons of water in the competition pool and the 301,136 gallons in the dive well are both maintained via a state-of-the-art pump room featuring the latest filtration and chemical systems managed by a networked BECS controller. The pump room also contains the most modern heaters and chillers to maintain ideal water temperature year-round.
Our spacious brushed concrete deck surrounds both pools and contains three large bleacher areas, four-deck showers at each end of the pool, one shower near the diving boards, and three aquatic lifts to assist swimmers with disabilities to easily enter and exit the pool. There are also remote-controlled lighting towers that provide illumination for nighttime activities and events.
For your convenience, we're also proud to offer men's and women's locker rooms, each containing over 100 lockers, 15 shower stalls and multiple toilet stalls with sinks that can be found near the entrance of the facility. The Aquatic Center and locker room areas are both ADA compliant, so come pay us a visit! Our professional Red Cross-trained lifeguards and staff are here to assure you have a safe and enjoyable experience!
Membership & Facility Rental Information
To access the Aquatic Center, you must either rent/reserve lanes as an external organization or obtain an aquatic membership. Only currently enrolled MDC credit & non-credit students, active employees (faculty/staff/administrator) and FT MDC retirees may obtain memberships. The Aquatic Membership is only available online:Join Now! If you're interested in renting the facility, please reach out to the Pool Manager.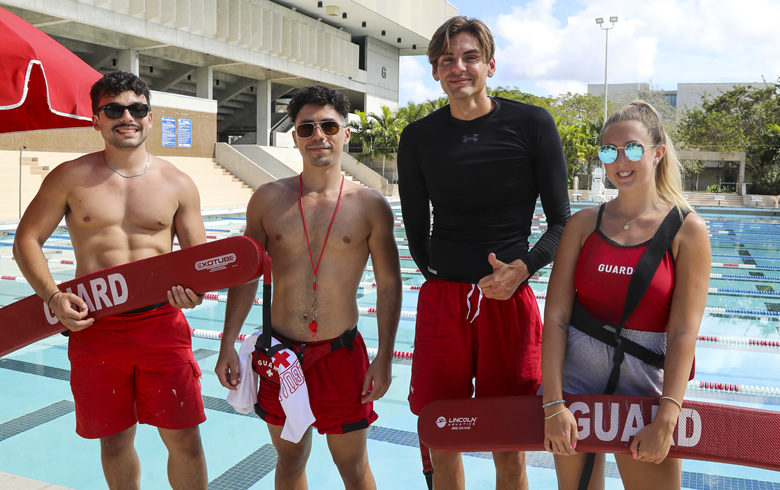 Program Information
Currently, we offer American Red Cross swimming lessons for children and adults. We're looking to provide additional aquatic programs to include MDC Shark Swim Club, American Red Cross Life guarding (LG) and Water Safety Instructor(WSI), PADI SCUBA, water aerobics, plus more!
Please contact the Continuing Education Department for more information regarding programs:
305-237-2161 / 305-237-2415 / MDC Continuing Education -Kendall Campus
Staff