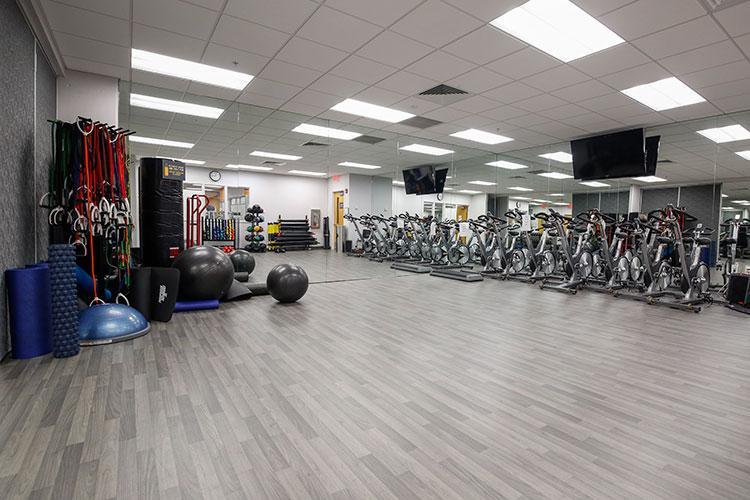 Classes offered at the center
Aerobic Kickboxing
This 45-minute high-intensity class will help you shed those unwanted pounds by engaging you in high energy cardiovascular activity which consists of uppercuts, jabs, hooks, and various kicks. Punching bags and mitts are used in this class. It is highly encouraged that you bring your own punching gloves.
Abs on the Go
This 30-minute workout focuses on strengthening and toning your abs beginning with exercises on the floor and progressing to more advanced abdominal exercises. Join us and tone your abs!
Circuit Training
This 30 to 45 minutes class incorporates resistance training and cardiovascular exercises in a fast-paced exercise routine program in order to maximize calories burned.
Fitness Express
Get a rapid strength training workout in just 30 minutes. Burn fat and improve muscle conditioning in a short time frame!
Hatha Yoga
Hatha Yoga is an ancient, classic yoga style that will help you to get fit while encouraging a healthy mind-body connection.
Indoor Cycling
This is a high-intensity class 45 minute cycling class that includes various intervals and is sure to have you burning over 400 calories per session.
Mat Pilates
This class will help build flexibility, muscle strength, and endurance in the legs, abdominals, arms, hips, and back.
Meditation
This 45-minute class will incorporate a variety of meditation and breathing techniques that are sure to help you relax and reduce stress from the fast-paced environment that we live in.
Sculpting Arms
This 45-minute class utilizes a variety of resistance training exercises that targets the arms, legs and abdominal region.
Vinyasa Yoga
Get in shape for the summer while working on your strength, flexibility, and balance. Best of all, yoga will also help you relax and reduce stress. Classes are tailored for those of all fitness levels.
Yoga/Pilates Fusion
This class will help build flexibility, muscle strength, and endurance in the legs, abdominals, arms, hips, and back. This class incorporates a perfect blend of yoga and Pilates.
Zumba Fitness
Zumba classes feature exotic rhythms set to high-energy Latin and international beats. Before participants know it, they're getting fit and their energy levels are soaring! There's no other fitness class like a Zumba Fitness-Party. It's easy to do, effective and totally exhilarating, often building a deep-rooted community among returning students.
Zumba Circuit
Maximize your workout while still having a total blast. Zumba in the Circuit is 30 to 45 minutes of high-octane, Latin-inspired dance-fitness moves combined with circuit training, a series of strength exercises at timed intervals. Get the metabolism-boosting, strength-building benefits of circuit training while perfecting Zumba moves—all in the same class! Guaranteed to blast calories and thwart boredom, Zumba in the Circuit moves students from one exercise station to the next to the thumping beats of reggaeton, salsa, merengue, hip-hop and more. Be in and out in 30 to 45 minutes flat —this time-effective and efficient class can be adapted for all fitness levels.
Zumba Sentao
The Zumba Sentao™ workout takes the thrill of the fitness-party and partners it with explosive, chair-based choreography to strengthen, balance and stabilize your core, and step up your cardio work in a whole new way. Grab a chair, feel the beat, and learn how to use your own body weight to enhance muscle strength, improve definition and endurance, and tone your physique. Strut, shake, and shimmy as you work your core (and work the chair) in a high-energy fitness-party that will keep you on the edge of your seat!