Sergio Piñon
Senior Vice President & Director of Security, Ocean Bank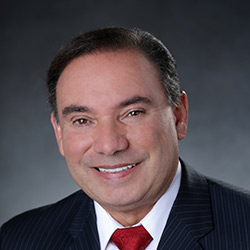 Sergio Piñon is currently the senior vice president and director of security for Ocean Bank. He is responsible for all of the physical security and investigations of all branches, and corporate headquarters. In 2009 he was appointed by the board of directors as the bank's privacy and information security officer in addition to the corporate security role.
Prior to joining Ocean Bank, he spent 20 years at MasterCard Worldwide, and retired as Group Executive in charge of all security & risk management global operations. While working in this capacity Sergio was involved in the writing and passing of credit card fraud related legislation for the State of Florida. In 1989, he received a special award from the Florida Attorney General for his outstanding contribution to the citizens of Florida. He is recognized as one of the foremost experts in the field of credit card fraud, identity theft, cyber-crimes, and terrorism by many members of federal and state law enforcement agencies throughout the world. He is a former Intelligence Officer and Anti-terrorism expert, and a certified bomb technician.
Mr. Piñon graduated from Nova Southeastern University, where he received a Bachelor of Science degree in Business Administration and Professional Management. He is a Certified Ethical Hacker, Information Security Assessment (IAM) by the National Security Agency (NSA), Risk and Information Security Systems and Control (CRISC) AND Certified Financial Crimes Investigator (CFCI). He is a member of the FBI's InfraGard's South Florida Alliance Board of Directors, currently serving as Financial Services Sector Chief, and a member of the US Secret Service Economic Crimes Task Force. In 2018, he attended and completed the prestigious FBI CISO Academy in Quantico, Virginia. In 2019, he was once again nominated to attend the FBI's InfraGard Alliance Leadership Academy also in Quantico, Virginia. He served in the US Army, two tours in Special Operations in the Republic of Vietnam, a decorated war hero awarded the Bronze Star Medal for bravery, amongst many other military awards such 13 Helicopter flight combat medals, Vietnam Campaign Medal, Vietnam service Medal, Good Conduct Medal, Airborne flight wings, 2 presidential citations for safety and 2 presidential citations for meritorious achievement.