Foundations of Cybersecurity
Course Overview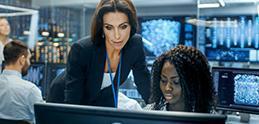 This course focuses on multiple I.T. disciplines in order to provide a strong foundation for students looking to pursue a cybersecurity career. Course covers a major topic throughout each week from the areas of hardware, software, networking, security, coding, automation, and cloud technology.
Throughout the course, there will hands-on labs and activities for students to engage in, both inside and outside the virtual classroom. The final week will also include a demonstration of the MDC Cyber Range.
This course prepares you to take the advanced Cyber Range courses.
Learn more about the MDC Cyber Range
What you will do in this course
Gain critical hands-on skills to augment your cybersecurity knowledge and experience
Use real industry-leading security tools such as IBM QRadar and Palo Alto Network firewalls
Create AWS cloud environment to practice concepts learned in the course and prepare virtual exercises
Work with diverse operating systems
Learn important skills in five different major components of information technology
Computer programming
Learn how to create computer networks in virtual labs and in the cloud using software-defined networking
Who should take this course?
The course is a non-credit course open to students who want to gain foundational knowledge in cybersecurity. No previous cybersecurity education nor experience is required, however having some fundamental I.T. knowledge is helpful.
Course Format
This is an MDC LIVE course. It is virtually led by an instructor (not videos) with scheduled online classes. Please note, this course is not on-demand nor will it be recorded for those that miss class sessions.
Course Registration and Cost
The course cost is $299 and it includes all courseware.
Achieving your digital badge
Upon successful completion of the course, you will receive an MDC digital badge. The badge will allow you to showcase your cyber-defense skills to potential employers and progress your career.
Digital Badge Awarded for this course: