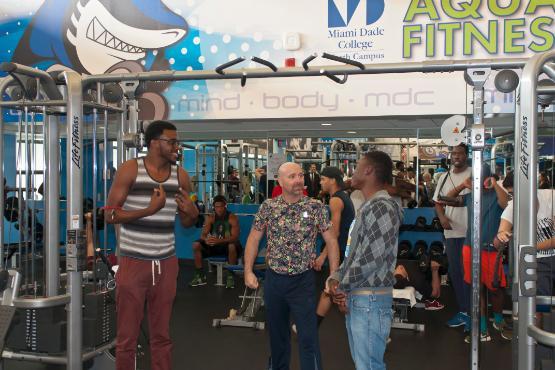 The Perfect Fit for Your Fitness needs
The 6,000-square-foot North Campus Aquatic and Fitness Center offers state-of-the-art equipment that is sure to fit everyone's fitness needs. With the demands of work and academics challenging your mind, the Fitness Center offers a challenge for your body. Whether you need a break from school or just want a to get away from the hectic day at work, the Aquatic and Fitness Center offers you a variety of amenities to relieve that stress while getting fit in the process.
A One-of-a-Kind Training Facility
The Aquatic Center is uniquely equipped to train fire rescue, homeland security and maritime agencies, playing a central role in courses covering underwater crime scene processing, search and recovery and water-borne tactical operations. It's training well features custom-made platforms to simulate entry from docks, boats, bridges, and helicopters. A one-of-a-kind prop car can also be lowered into the training well for rescue simulations. In addition, the Aquatic and Fitness Center is an authorized provider of American Red Cross health and safety training.
The Aquatic and Fitness Center adheres to all current American with Disabilities Act (ADA) rules and regulations.
The Fitness Center follows the rules and regulations set forth by the National Strength and Conditioning Association (NSCA).
Aquatic and Fitness center is an authorized provider of American Red Cross Health and Safety Training.
USA Swimming - Certified Competition Swimming Pool.