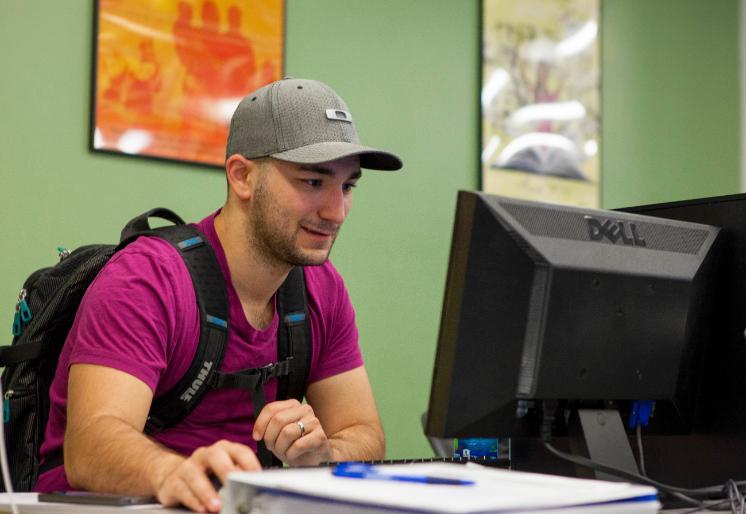 Registration:
MDC ID is required in order to use the Aquatic and Fitness Center facilities and to participate in wellness-related programs.
Prior to participation, everyone is required to complete a Health/Medical Questionnaire (updated annually), facilities rules forum, and liability form. You may be required to obtain a medical clearance with a written doctor's approval.
Exercise orientations are available. Please inquire if interested.
Gym Etiquette:
Wear proper exercise attire at all times, especially shirts and athletic shoes. Dress shirts, halter tops, jeans, dress or cargo pants, shorts, belts or pants with excessive zippers are not permitted.
Tobacco, food, chewing gum, glass bottles, and cans are not allowed in the facility; Only water bottles. Recycle all water bottles in the provided containers located in the lobby area.
All book bags and personal belongings must be placed in lockers. You must leave your MDC ID at the front desk in exchange for a locker key. Aquatic and Fitness Center staff are not responsible for any personal items lost or stolen. If you lose your locker key, you will be responsible for the $25 replacement fee.
Check out weight training fitness equipment at the front desk and return it when finished. You must have a form of identification in order to check out equipment.
You're welcomed to bring your own towel. Gym users are required to carry a towel on them at all times in the gym. Towels will be available for rental at the reception desk for $1.
Wipe down equipment after each use, and clear your station.
Safety for the Fitness Center:
Use spotters when needed, use the equipment appropriately. Ask the staff for help. Staff will reinforce these rules when observing irregularities.
Keep equipment off the floor and return it to the proper rack when done. RE-RACK YOUR WEIGHTS.
Keep the facility flow path clear; remove any obstructions, including book bags. You must use lockers available for belongings. Lockers are only to be used while exercising.
No unsafe activity (e.g. running in the weight training area, wellness area).
Show respect for facilities and equipment. Do not drop or throw weights.
Safety for the Aquatic Center:
The swimming pool is only for swim classes or lap swimming.
Listen and follow all the instructions of the lifeguard on duty at ALL times.
Rules for Aquatic and Fitness Center:
Cell phone usage is strictly prohibited in the Aquatic and Fitness Center.
You may be asked to leave the facility immediately if you misuse any equipment or facilities, use offensive language, or display any other distasteful behavior. Individuals whose personal actions infringe upon the well-being of other users can and will be denied access. If you fail to leave when asked, security may/will escort you out of the facilities.
Immediately report any injury or equipment malfunction to the staff on duty.
MDC North Campus and the Aquatic and Fitness Center reserve the right to make amendments to the facilities rule book at any time and without notice.
Pool Rules
The lifeguard is in charge; follow their instructions at all times.
Access: All patrons must check-in at the front desk in order to be allowed in the pool area. No exceptions.
Equipment: Fins, kickboards and pull buoys are to be used by swim teams and lap swimmers or during swim lessons only.
Diving: No one is allowed to use the diving boards without prior authorization from the Pool Manager.
Starting Blocks: Starting blocks can be used by swim teams and during swim lessons only under the instructor/coach's direct supervision.
Animals: No pets are allowed in the facility.
Running: No running, pushing, shoving, or horseplay is permitted at this facility.
Age Requirements: Parents must accompany minors at all times.
Showers: All swimmers must shower before entering the pool
Lap Swimming: Lap swimmers are encouraged to share the lanes. If more than two people must swim in a lane, we recommend circle swimming. For your safety and the safety of other swimmers, we ask that you notify the swimmer before entering the lane. If you are uncomfortable doing so, then please ask the lifeguard for assistance. During peak hours: Students and public lap swimmers must share lanes with others. These hours are Monday – Friday, 3 p.m. – 7 p.m.
Closing Policy: All users must be out of the pool 10 minutes prior to the closing of the facility.
Glass containers, food, cigarettes, and alcoholic beverages are not allowed in the pool area; chewing gum is not permitted in the facility.
No private coaching or swim lessons are permitted for public users.
Swimmers with open sores, skin rashes, bandages or casts are not permitted to enter the pool.
Swimmers must stay off the lane lines at all times.
Proper swim attire must be worn at all times. All shirts used for sun protection or religious purposes must be made of Lycra material only. No thongs or G-strings allowed.
Only swim diapers allowed in the pool.
Sunbathing is not permitted on the pool deck area.
Flotation devices, tubes, or arm wings are strictly prohibited. Only Coast Guard-approved life vests are allowed. Masks and scuba diving gear are not permitted unless part of instructional classes.
USE OF AQUATIC AND FITNESS CENTER FACILITIES IS A PRIVILEGE. The staff has the authority to deny entrance or disallow further participation due to violation of these policies or any other behavior deemed unacceptable.