Ensuring Access to Success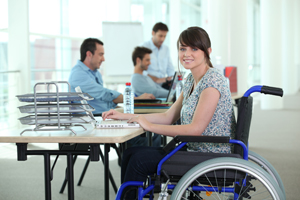 ACCESS empowers students to succeed by enabling students with disabilities to maximize their talents, skills, and abilities. Its goal is equal access and opportunity.
Advocating for Accessibility
In addition to its role in the classroom, the department works to promote awareness of disability issues, federal and state regulations, and College procedures that encourage accessibility and inclusion.
Assistance After College
ACCESS's commitment to disability services extends beyond the college experience. The department is also a voter registration site. Through the MEED program, students are able to access services that help them attain employment.
The Model for Enhanced Employment Development (MEED) program is supported by The Able Trust, which provides opportunities for successful employment for individuals with disabilities across Florida.
Through the Strategic Employment Placement Initiative Grant, MDC is focused on three goals to increase the employability of students with disabilities: 1) increase internship and job placements for students with disabilities; 2) increase individual career development session and career services sessions; and 3) increase career services workshops for students and disability awareness workshops for employers and organizations in the community.