EEI Staff
---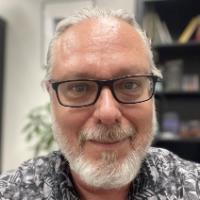 Mike Matthews
EEI Collegewide Director
Wolfson Campus
Room #1201
mmatthew@mdc.edu
(305) 237-3796
Mike is an environmental educator interested in how human society and culture interface with and affect the natural world. He has an M.S. in Environmental Studies from Florida International University and his thesis research looked at the efficacy of experiential teaching techniques as used in environmental education.  Other areas of study include deep ecology, environmental ethics, South Florida ecology, environmental policy, and sustainable development. Matthews has held a visiting instructor position at Florida Gulf Coast University where he taught Environmental Biology, Global Environment and Society, Deep Ecology, and FGCU's University Colloquium (which focuses on sustainability issues, educational reform, and the Earth Charter).  He has also taught for Florida International University's Department of Earth and Environment, Johnson & Wales University, and has worked as a naturalist at the Marjory Stoneman Douglas Biscayne Nature Center in Crandon Park.  Matthews currently serves as director of Earth Ethics Institute at Miami Dade College where he oversees the institute's programming and operations across all eight Miami Dade College campuses.
Words from the Director:
The Call for Earth Literacy
Netiva Kolitz
Program Professional
Kendall Campus
Room #8201-4
nkolitz@mdc.edu
(305) 237-2247
Netiva holds a B.S. degree and completed graduate course work both in Environmental Studies and Education. She has more than 20 years of professional experience in program coordination, environmental education, and public outreach, and has served as the Earth Ethics Institute's Kendall Campus Program Professional since 2012.
Stephen Nesvacil
Program Professional
North Campus
Room #1254-9
snesvaci@mdc.edu
(305) 237-1338
Stephen is an environmental educator interested in co-creating community building aligned in nature. He graduated from Florida International University with BA's in Religious Studies and Liberal Studies with certificates in Environmental Studies and Spirituality. His Bachelor Thesis for Honors focused on a critique of modern industrial agriculture, which informed ongoing interests in agro-ecology and sustainable food systems, eco-spirituality, and biomimicry. Interested in eco-spirituality, Stephen uses his experience as a chaplain to a spiritual community as inspiration in relying on Nature as primary reality and spiritual home. His belief that Nature is our primary teacher informs how he connects students and Earth through mindfulness and nature reflection.
Dr. Mark Tirpak
Program Professional
Padrón Campus
Room #612100
mtirpak@mdc.edu
(305) 237-6733
Mark has a background in urban planning and research as well as community and youth development, project management, and service design. He is passionate about frugal innovation -- or creative problem-solving in the face of limited resources and other constraints. Mark's environmental sustainability interests include but are not limited to: built form and public health, active transport, design with nature, voluntary simplicity, waste (including food waste) reduction, disaster risk reduction, distributed energy production and ESG (Environmental, Social, Governance) investing and organizational management.