---
Academics
Chinese air traffic controllers prepared for leadership, teaching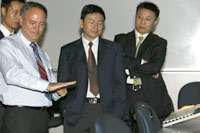 Chinese air traffic controllers at a training session.
They are experts at maintaining a safe and orderly flow of traffic in the sky. Now, more than two dozen air traffic controllers from the Civil Aviation Administration of Shanghai, China, are turning to Miami Dade College to learn how to pass that knowledge to others.
The first group of Chinese air traffic controllers arrived at MDC's Eig-Watson School of Aviation at Homestead Campus in October, with two groups following shortly thereafter. Each group, consisting of 10 members, participated in intense, two-week programs to enhance their management and instructional skills. 
"We are training the trainers," said Dr. Jeffery A. Thomas, dean of academic and student affairs at Homestead Campus. "This is a great opportunity to further their management and training techniques."
The program curriculum covered supervisory and management principles, analysis of training needs, effective communication methods, strategic planning, motivation and ethics, among other topics.
In addition to classes at Homestead Campus' aviation facilities, each group received comprehensive, hands-on education in administration, piloting and air craft maintenance at Miami International Airport and Kendall-Tamiami Executive Airport.
— Sue Arrowsmith
More Academics Articles