---
Academics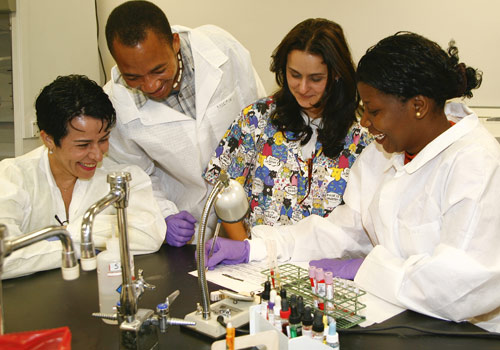 MDC professors in fight against HIV/AIDS
The College is part of a global initiative to stem the HIV/AIDS epidemic in Africa.
Working with the Association of Public Health Laboratories and the University of Miami, faculty in Miami Dade College's School of Health Sciences are training 12 biologists from southeast Africa to use new techniques to tackle the epidemic in their homeland.
The Biologist Teaching and Training Project at Medical Center Campus is a customized 13-week educational experience designed to address the clinical laboratory needs of international areas hit hardest by HIV and AIDS.
The students in the program are all from Mozambique, hold bachelor's degrees in biology and related science disciplines, and work professionally at hospitals within the Mozambique Ministry of Health.
"The curriculum is designed to address the clinical needs of scientists who live in areas that are suffering the greatest impact of the epidemic," said allied health academic chair John Solomon, who oversees the project at Medical Center Campus.
"Having a skillful team that can provide adequate services improves both preventive and reactive care," Solomon added. "This training will help them identify and monitor individuals with HIV/AIDS and other sexually transmitted infections much sooner than previously done. This is an important step in the health care chain."
According to the President George W. Bush's Emergency Plan for AIDS Relief – a $30 billion initiative introduced in 2007 – Mozambique is one of 15 countries throughout the world where the HIV/AIDS epidemic is most severe.
More than 20 million people in Africa have died of AIDS, and as a result, countries like Mozambique are in need of stronger laboratory services. At MDC, the Mozambique biologists are working with six faculty members in the Clinical Laboratory Sciences program. Their training consists of classroom instruction, laboratory tests and field experiments.
The training ends in December and the students will receive a certificate of completion, enjoy a brief holiday break, and then begin a rotational clinical lab residency at a public health laboratory in the United States.
"We want to prepare these individuals so when they return to Mozambique, they have the requisite knowledge, skills and abilities to train other clinical laboratory personnel," Solomon said.
— Tarnell Carroll
More Academics Articles