---
Cultural Spotlight
Divine Dalí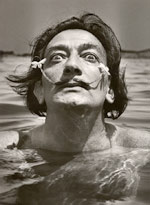 Self-Portrait, Salvador Dalí
MDC's Art Gallery System will present The Divine Comedy by the Spanish painter Salvador Dalí in the Freedom Tower's second floor gallery.
From 1951-1954, Salvador Dalí worked on watercolors for a planned commemorative print series to celebrate the poet Dante Alighieri. The series was commissioned by the Italian government to honor the Alighieri's 700th birthday. But when the project went public in 1954, the nation decried honoring the greatest Italian poet with the work of a Spanish artist.
The Divine Comedy's 100 prints were ultimately commissioned by Joseph Forêt and produced as wood engravings from 1959-1963 in Paris. Dalí considered the series one of the most important works of his career.
Written from 1307 to 1321, La Commedia Divina is a masterpiece of Italian literature. It is divided into three parts – Dante guided by Virgil through the nine circles of Inferno; at the top of the mountain Purgatory; and lastly with Beatrice who takes him to Paradise – and each part is comprised of 33 cantos.
Dalí was born in the small agricultural town of Figueres, Spain, in 1904. He attended the San Fernando Academy of Fine Arts in Madrid and became internationally known when three of his paintings were shown in the third annual Carnegie International Exhibition in Pittsburgh in 1928.
The following year, he held his first one-man show in Paris and joined the surrealist movement led by former Dadaist Andre Breton. He soon became a leader of the surrealist movement and his painting, The Persistence of Memory, with the soft or melting watches, is still one of the best-known surrealist works.
To involve the community in learning about Dalí and the history of the print series, the Art Gallery System will host weekly gallery walks, lectures on surrealist art and the work of Dalí as well as engraving workshops for students.
"This unique exhibition is a journey through Dante's literary masterpiece viewed with Dali's psychological insights and inscrutable symbolism," said Jorge Luis Gutiérrez, director of MDC's Art Gallery System and curator of the exhibition.
The print series is part of the Caixanova art collection. Caixanova, one of Spain's most prominent financial institutions, collaborated with Miami Dade College in 2007 to present the complete etchings of Spanish master Francisco de Goya.
The Divine Comedy by Salvador Dalí
Dec. 3-20, 26 and 27, 2008 and Jan. 2, 3 and 6-31, 2009
Freedom Tower at MDC's Wolfson Campus, 300 N.E. Second Ave., Miami
Call 305-237-7186 for exhibition hours and more information.
— Katherine Joss
More Cultural Spotlight Articles