---
Cultural Spotlight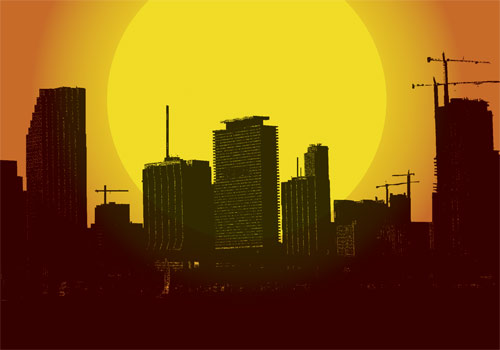 Designers challenged to tackle urban blight
Downtown Miami is ready for its makeover, and the winning idea might come from a Miami Dade College student.
At least 14 MDC architecture students have entered the design competition DawnTown 2008, which aims to beautify a drab sewage station in Bicentennial Park, located across the boulevard from the Freedom Tower and four new towering condominiums.
MDC students worked closely with architecture professor José Vázquez to complete their designs.
The winning design will be recognized at a ceremony at Wolfson Campus on Friday, Dec. 5, which coincides with Art Basel Miami Beach. Last year's DawnTown event drew a standing-room-only crowd to the Chapman Conference Center.
The competition is open to designers worldwide and is jointly presented by the schools of architecture at Miami Dade College, the University of Miami and Florida International University; the Miami Mayor's Office; and the Miami Art Museum. An international jury will select the winning entries and award cash prizes of $2,000, $4,000 and $8,000.
The goal of the competition is to redesign a functional pump station, currently housed in a boxy, 1951 concrete structure, into an eye-pleasing icon for downtown. The City of Miami plans to redevelop all aspects of Bicentennial Park over the next five years into a Museum Park that will house Miami's new art, science and history museums.
In a letter of support to participants, Miami Mayor Manny Díaz wrote that "Miami is a progressive city in the midst of an urban renaissance and our civic buildings and infrastructure should reflect this spirit."
The mayor and MDC alumnus was also on hand for the opening of a related exhibition at the Freedom Tower at MDC called On the Waterfront: Miami's Seven-Mile Promenade. The exhibition featured conceptual blueprints by architecture students at the University of Miami to redesign the waterfront of downtown Miami.
— Jim Harper
More Cultural Spotlight Articles