---
Features
Student: "The College changed my life around"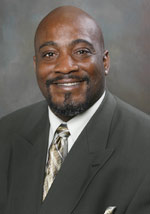 Desmond Meade
For years, Desmond Meade slept behind buildings and worried more about scoring his next high than his next meal.
Today, the Miami Dade College student, who was still homeless when he first enrolled in the College's Paralegal Studies program, is a junior pursuing his bachelor's degree in public safety management in MDC's School of Justice.
Meade has his sights set on Harvard Law School and wants to help people who today resemble the man he used to be.
"I realized that the only way my experiences were ever going to be worth anything was if I could help someone else going through the same thing," Meade said.
Meade is the president of the Society of Law and Community Service, an organization he started at the College in the spring. He formed the organization because he "wanted to enhance students' learning environment and give them the opportunity to work with professionals in the legal field in informal, one-on-one sessions," he said. "And, I wanted to expose them to community service, especially in dealing with the homeless, those in the foster care system and at-risk high school students."
One of the society's current projects is working with local students who have possibly lost hope in themselves.
"These are the kids that aren't the brainiacs," Meade said. "They might not believe they have a future.
"But, there is something out there for them, if they really want it."
Meade himself had to fall many times to really want it.
He thought he wanted to be a lawyer or a pilot when he was a child, after his mother immigrated to Miami from the Virgin Islands. But, "somewhere along the line, those dreams got lost," Meade said.
He became homeless after his mother died in 1996. For years, he fell deeper into despair and escaped into a drug and alcohol habit.  After several mishaps with the law, he was sentenced to 15 years in prison.
"I ended up working on my own case in jail and I was able to get my conviction reversed and was out in three years," he said.
The experience rekindled his law dream and, although he fell back into drugs and alcohol, he eventually enrolled in rehabilitation and "kicked the habit," he said.
Meade was apprehensive to go back to school but said his professors made the transition so easy that he "took off from there."
"The College really helped me change my life around. The professors motivated me to do more and work harder so, I did. This is a place where your dreams have no limits."
— Pilar Ulibarri de Rivera
More Features Articles