---
Cultural Spotlight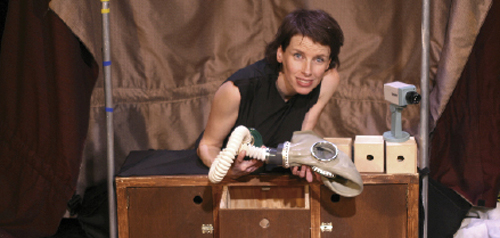 Artist-in-Residence Explores the Ordinary as Extraordinary
The National Performance Network (NPN) is a group of cultural organizers and artists facilitating the practice and public experience of the performing arts in the United States.
As a member of the NPN since its inception, Miami Dade College's cultural affairs division is invited to the organization's annual meeting. Two years ago, that event brought Greg Jackson, artistic director of cultural affairs, together with artist Michelle Ellsworth.
"She is an engaging performer," Jackson noted when they met. "She fuses written text, music, built sculptures, projected images and video installations with other technology. She is a woman for all seasons."
Jackson collaborated with NPN and DiverseWorks, an art space in Houston, to co-commission a new work by Ellsworth. The Objectification of Things, her self-described "physical conversation about materialism," is the product of that collaboration. It is slated to be a part of the 2008-09 season of the Cultura del Lobo series.
Through the piece, Ellsworth wants the viewer to engage and think about the significance of seemingly ordinary objects. "I was always one who wanted to transcend the materialistic plane but it is problematic," she said. "There is comfort to be found in predictability."
Ellsworth draws heavily on her personal experiences and was inspired by her own visceral reaction to the change of an ordinary object – the repaving of her driveway – in creating the piece. "I was surprised by how much I missed the old driveway and it led me to think about our relationships to inanimate objects," she said. "I imagined what I could do to re-create, honor and transform the driveway. I detailed the rituals in elaborate drawings and then acted them out to reclaim the driveway as it had been, as it was in my memory," she added.
The work is about attachment. Ellsworth found that once she opened herself to the idea that she was connected to inanimate objects, she realized just how many objects have importance in her life. They are reliable, consistent and central.
Ellsworth, who spent some time last year in Miami working on the piece, will return this summer to complete the work. "One could say that the humidity lubricated my synapses," she said. "I have been to many places but never had such a wonderful, fruitful and supportive experience as I did, working with Miami Dade College."
— Katherine Adjemian
More Cultural Spotlight Articles