---
Cultural Spotlight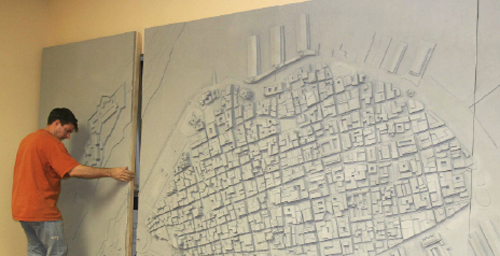 Student Museum Designs Hopeful of a Free Cuba
Last semester, architecture professor Mario Ortega asked his second-year students to design a conceptual museum that symbolizes hope in an old, blighted city from which Ortega and many of his students and their families are exiled.
For reference, the students could use history books, satellite imagery and their teacher's memory.
"It could have been a big mess," said Cuba-born Ortega, a 14-year veteran teacher at the College who usually assigns students the task of creating design concepts in places like Miami Beach and Coral Gables, locations students have visited or can cruise at their leisure.
With this project, the 40 students worked harder, longer and with more passion than Ortega had ever seen. The result was the creation of a model for the conceptual Museo de la Libertad (Museum of Freedom) in Old Havana, the historical center of Cuba's capital city.
Ortega said he wanted to work on the project so that if the communist country becomes a democracy, investors and developers will look to MDC's students, faculty members and alumni for guidance in redevelopment.
"It's important for the College to have done this architectural research," Ortega said. "We at least now have some history of looking into the possible redevelopment of Old Havana."
The significance of this research, said Ortega, is that it shows students how to fuse new design concepts with old structures while preserving history.
But before the actual work started, Ortega gave his students a history and cultural lesson on the site. "It served as a catalyst and inspiration for the project," he said, adding that many of his Cuban and Cuban-American students felt an emotional connection to the assignment.
Ortega gave his students the choice of selecting from three historical locations as the site of the museum. Before they each came up with their own museum designs, they had to work in teams to build two large-scale conceptual models of the city. "They didn't have a studio to work in; they did it out of one of their friend's offices," Ortega said. "Still, it took them two and a half weeks to do what takes any architectural firm months to do. "The project was a huge success."
— Pilar Ulibarri de Rivera
More Cultural Spotlight Articles