---
Features
Cachao Remembered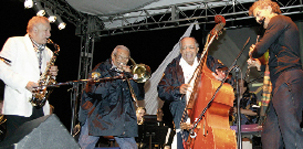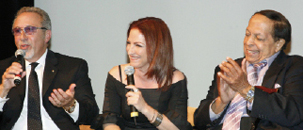 Emilio Estefan, Gloria Estefan and Cachao
The great ones have always been known by one name – Tiger, Celia, Michael, Pele.
The name Cachao instantly transports you from the troubles of the world to a place where music rules and feeds the soul.
I feel so fortunate to have met the man and talked with him. What struck me about him most was that he was a teacher, and we were blessed at MDC to host Cachao several times. He took time with our students, played with them and talked of his love for music.
At our North Campus' Nuestro Ritmo event in 2005, he joined the students on stage and insisted on playing through the rain. "Just get me a windbreaker," he said.
Recently, in what would be one of his final public appearances, he dazzled the audience with his wit and humor following a screening of the documentary 90 Millas at MDC's Miami International Film Festival.
That is how I will remember Cachao. He will never be forgotten.
— Dr. Eduardo J. Padrón
More Features Articles