---
Institutional Research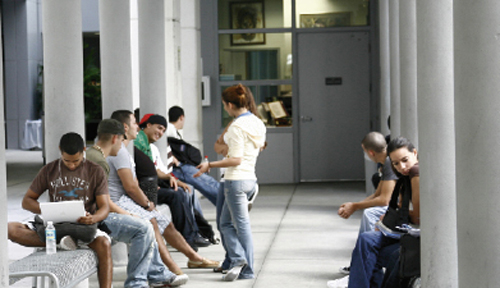 Retention Rates at Four-Year High
Most people familiar with the College's open-door policy know these facts: MDC has one of the most diverse student populations in the country. More than half of the students who enroll are the first in their families to attend college. Nearly half of the students who enroll are as likely to be native Spanish speakers than not. More than 80 percent must work their way through school; 30 percent work full time. Nearly 60 percent are from low-income families. Only 22 percent entered College prepared for college-level work.
But a recent report shows that despite the odds, MDC's freshman retention rate for 2007 is nearly five percentage points higher than previous years.
This statistic is important because students are more likely to drop out of College during their first year than any other. If the College can implement strategies to increase retention rates, the likelihood of students persisting to graduation is far greater.
This goes to the heart of the College's purpose. It was established to provide a way to economic and social mobility to all. And through the years, it has more than lived up to that purpose, providing individuals from all walks of life a solid foundation to succeed in business, civics, entertainment and the arts.
While being inducted into the 2008 Alumni Hall of Fame, Delray Beach Fire-Rescue Chief David James admitted that he was not ready for College when he first arrived. "I was placed in a program that helped me overcome my academic challenges," he recalled. "I was so encouraged and inspired by my instructors that I quickly excelled in all I did."
When students enroll at MDC, they are assigned to the campus where they will take the majority of their credits in their incoming fall term. They are counted as "retained" if they re-enroll on any MDC campus.
The fall to fall retention rate for 2007 rose to 65.8 percent, 4.7 percentage points higher than 2006 and the highest in the last four years, according to data compiled by MDC's office of institutional research. Retention rates increased for all major demographic groups and on every campus. The retention rate for women was five percentage points higher than men in 2007, although the rates improved for men as well.
All MDC campuses have been proactive and consistent in the orientation of new first-time college students. These efforts have included Freshmen Convocations and mentoring. Also, campuses have been much more active recently in contacting students via e-mail and other media. "All of these efforts aim to increase the 'connections' new students make with the faculty and staff at Miami Dade College, as well as with other students," said René García, director of enrollment management. "Much research shows that students who make such 'connections' are more likely to stay enrolled and perform better in their classes."
Students who test into college prep math and writing courses must take SLS, or Student Life Skills, in their first semester at MDC.
This course focuses on many of the essential noncognitive skills needed in college, and institutional as well as state data show that it enhances student success.
— Gariot P. Louima