---
Cultural Spotlight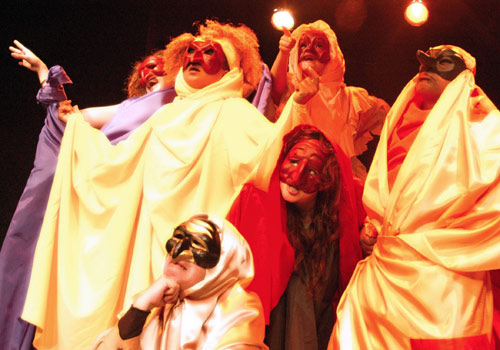 Prometeo Presents Classic Spanish Comedy
Prometeo Theatre will once again serve as one of the venues for Miami's International Hispanic Theatre Festival, which makes its triumphant return July 9-27.
As part of the festival, Prometeo will present Los intereses creados, a comedy by Nobel Prize-winning Spanish playwright Jacinto Benavente. The play strongly references the Commedia dell'Arte tradition. The actors, all Prometeo students, wear masks during the performance.
This year's festival will showcase the finest companies from throughout the United States, Latin America and Europe to "raise the curtain" on Hispanic culture worldwide.
"Prometeo Theatre is very proud to be a part of this wonderful international festival and to be among so many professional companies," said Prometeo director Joann Yarrow. "Our production of Los intereses creados is a great opportunity to see a classical piece in a contemporary light."
Los intereses creados is the story of Leandro and Crispin, who arrive at a city with nothing but Crispin's ingenuity. As they try to survive, Crispin cunningly decides they must take on new identities and ultimately pursue riches – which they'll gain through Leandro's marriage to Polichinela's daughter. Meanwhile, Leandro and Crispin go into debt, and Crispin must convince the lovers, the loaners and even the law, that fulfilling their own interests is more important than upholding justice.
Prometeo is a part of the Florida Center for the Literary Arts, an academic division of Miami Dade College. As part of the festival, the theater will also host plays from Spain, Argentina and Slovenia.
Los intereses creados
July 10-12, 14-15
Showtime: 8:30 p.m.
Venue: Prometeo Theatre at Miami Dade College's Wolfson Campus, 300 N.E. Second Ave.
For information, visit the Prometeo Web site or call 305-237-3262 


— Katherine Adjemian
More Cultural Spotlight Articles