---
Alumni News
MDC Gave Miami-Dade State Attorney the 'Opportunity to Launch'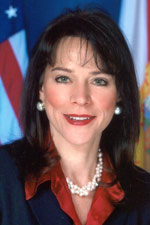 Katherine Fernández Rundle
As state attorney for Miami-Dade County, Katherine Fernández Rundle has worked passionately and tirelessly to create and promote a safe community in which to live and raise our families.
Her desire to continuously strive for this goal has its origins in principles instilled by her father, Dr. Carlos Benito Fernández, the first Hispanic judge in Miami-Dade County, who undertook similar causes.
Fernández Rundle began her legal career as a student at Miami Dade College. After receiving her Associate in Arts, she transferred to the University of Miami, earned a bachelor's degree, and then concluded her studies at the University of Cambridge in London, where she completed a master's and law degree.
In 1977, Fernández Rundle was recruited to work in the Miami-Dade State Attorney's Office. She rose through the ranks as a trial attorney prosecuting all types of criminal cases in the 11th Judicial Circuit. Ultimately, she served as chief assistant state attorney under Janet Reno.
Gov. Lawton Chiles appointed her as Reno's successor in 1993, making her the first female Hispanic state attorney in Florida.
Prior to her appointment, The Miami Herald reported Fernández Rundle's colleagues and observers described her as "hard working, politically connected and committed to improving the courthouse with innovations."
Since first taking the oath of office 15 years ago, she has played an instrumental part in the creation of numerous diversion and crime prevention programs in the criminal courts, including the nationally recognized Drug Court Program and the Domestic Violence Court. She has been a driving force in establishing pioneer educational programs that reach out to all segments of the community.
She has led the state successfully in several efforts that have helped write legislation to combat crime and enhance sentencing guidelines. Fernández Rundle has also focused heavily on public corruption with the intent of maintaining the integrity of public systems.
Fernández Rundle has received awards from numerous organizations, including the American Cancer Society, the Hispanic Bar Association, the Dade County Association for Women Lawyers and, most recently, the Dade County Bar Association. Last year she was elected to the board of directors of the National District Attorneys Association, the nation's largest and most influential prosecutor's organization.
"Miami Dade College gave me the opportunity to launch my professional and legal career," Fernández Rundle said. "This wonderful institution has also been long recognized for laying the groundwork for many others in our community to excel in their respective career fields. MDC will always hold a very special place in my heart."
— Staff Report
More Alumni News Articles