---
Cultural Spotlight
Jazz at Wolfson Presents John Stowell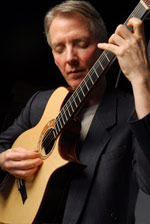 John Stowell
John Stowell is a unique jazz guitarist – influenced as much by pianists and horn players as he is by other guitarists. His music is described as "passionate and explorative" with "constantly varied feels" and "wonderful harmonic compliments." His original take on harmony, chords and improvisation sets him apart.
"He plays his amplified guitar as if he were surrounded by fine crystal … the type of slow burning, sustained energy that you hear in players that practice all the time," said Downbeat magazine.
Stowell began his successful career with lessons in his native Connecticut from guitarist Linc Chamberlind, and from John Mehegan, pianist and respected jazz educator at the Julliard School of Music and Yale.
Several years later he met noted bassist David Friesen in NYC and launched a critically acclaimed touring and recording association that lasted seven years and produced six albums, and included performances in Europe, Canada, the United States and Australia. The duo continues to perform today.
Stowell is also an in-demand teacher and clinician of jazz guitar. For 30 years, he has taught internationally in every educational setting and he is frequently invited to present "Artist in Residence" series.
His clinics are informal, hands-on and informative. In addition to music theory and guidelines for improvisation, Stowell often shares his professional experience with the business of music.
The Los Angeles Times said: "Guitarist John Stowell's style with standards is a delightful departure from the road well traveled. He transcends the label of jazz guitarist."
John Stowell
September 17, 2008, Noon
Room 3210 (Chapman Conference Center)
Wolfson Campus
— Katherine Joss
More Cultural Spotlight Articles