---
Presidential Moments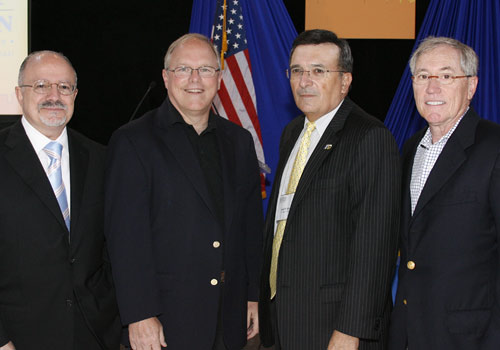 Nashville Leaders Learn Best Practices from MDC
A delegation of more than 150 leaders from Nashville, Tenn., spent an afternoon at the Freedom Tower at MDC learning about the importance education plays as an integration tool for immigrants.
College President Dr. Eduardo J. Padrón presented the workshop, "Understanding What It Means to Be an International City," which was a central focus of the 2008 Leadership Study Mission to Miami, organized by the Nashville Area Chamber of Commerce and the Nashville Convention & Visitors Bureau.
The purpose of the trip was to spotlight best practices and give Nashville leaders an opportunity to learn about regionalism, multi-modal transportation, public education and immigration/integration.
The Nashville Chamber invited Padrón to participate in the education and immigration panel with Frank R. Nero, president and CEO of The Beacon Council.
The group chose the Freedom Tower for its meeting because of its historical significance and because it would "be an inspiration."
— Gariot P. Louima
More Presidential Moments Articles