---
Alumni News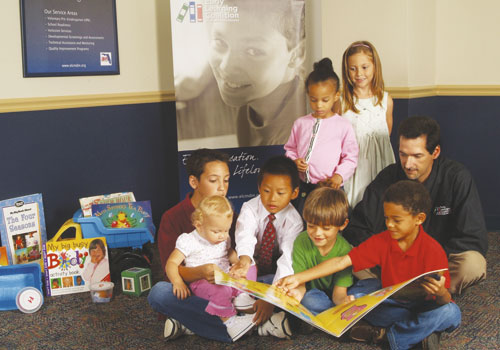 Alumnus leads the field of early childhood education
This philosophy is at the heart of what MDC alumnus Evelio C. Torres, the president and CEO of the Early Learning Coalition of Miami-Dade/Monroe, brings to the field of early childhood care and education.
Founded in 2000, the Coalition is among 31 similar organizations in Florida  established following the enactment of the School Readiness Act, which consolidated Florida's early learning services into one integrated program.
Torres (pictured above at far right) has been at the helm of the Coalition for nearly two years, leading the state in high-quality school readiness, voluntary prekindergarten, and after school programs.
Last fiscal year, the Coalition served more than 50,000 children throughout Miami-Dade and Monroe counties. The Coalition provided more than 17,000 4-year-olds with free universal voluntary prekindergarten; served more than 30,000 children up to age 12 and from families with low incomes in the School Readiness program; and conducted more than 4,000 sensory screenings for vision and hearing on children between 3 and 5 years old.
Additionally, Torres and his team have instituted the nationally recognized Quality Counts Program. In partnership with several other community organizations, this program provides a five-star rating system that reviews early learning programs according to clearly defined standards and offers support and incentives to help programs reach their goals.
Torres has ensured that the children's best interests are priority number one. "The massive responsibility that goes along with managing a $170 million budget for the early education system of Miami-Dade and Monroe counties is definitely a challenge," he admits. "But the difference that these programs make in children's lives is invaluable. Knowing that these programs provide children with the tools to understand math, science, reading and other skills gives me great satisfaction.
"We have a moral, ethical and social responsibility to help all children succeed in school and in life."
Torres said his days as a business student at MDC were crucial to shaping his outlook. "Miami Dade College gave me an opportunity to continue to be part of my community while getting an education that would prepare me for life," he said. "The skills I gained at Miami Dade allowed me to climb the management ranks and to appreciate the value of a solid foundation."
— Gabriel Carreras
More Alumni News Articles