---
Cultural Spotlight
A short talk about a 'Long Fight'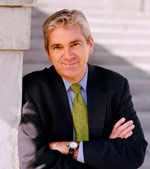 Tom Gjelten
Tom Gjelten, author of Bacardi and the Long Fight for Cuba: The Biography of a Cause, spoke about his new book at the Freedom Tower at MDC during a free event co-hosted by Friends of WLRN.
Bacardi and the Long Fight for Cuba thoroughly covers a unique history of modern Cuba – captured in the life and times of the famous rum dynasty.
The Bacardis of Cuba, builders of a rum distillery and a worldwide brand, helped define what it meant to be Cuban. Across five generations, the Bacardi family has held fast to its identity, even in exile from the country for whose freedom they once fought. Gjelten tells the 150-year tale with the sweep and power of an epic.
In chronicling the saga of this remarkable family and the company that bears its name, Gjelten describes the intersection of business and power, family and politics, community and exile.
"The historic panorama behind Tom's book is an enormously important piece of South Florida's own history and culture," said Rick Lewis, CEO of Friends of WLRN.
"When it came to sharing this book with the community, no venue is more iconic than Miami Dade College's Freedom Tower – the hallowed ground of Cuban immigration," Lewis added. "It was ideal."
Gjelten covers intelligence and other national security issues for National Public Radio (NPR). He brings to that assignment many years covering international news from posts in Washington and around the world.
He has won numerous awards for his work including the Overseas Press Club's Lowell Thomas Award, a George Polk Award and a Robert F. Kennedy Journalism Award. He was part of the NPR teams that won an Alfred I. duPont-Columbia University Silver Baton for Sept. 11 coverage and a George Foster Peabody Award for coverage of the war in Iraq.
In addition to reporting for NPR, Gjelten is a regular panelist on the PBS program Washington Week.
Kai Bird, co-author of the Pulitzer Prize winning biography, American Prometheus: The Triumph and Tragedy of J. Robert Oppenheimer, said, "This book will surely become essential reading to understanding both Cuba's tragic past and the island's post-Castro future. A stunning achievement from a versatile journalist." 

— Katherine Joss
More Cultural Spotlight Articles