---
Features
Doctor touched hearts and minds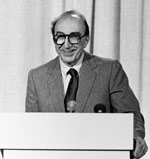 Dr. Michael E. DeBakey
Internationally acclaimed for his trailblazing efforts in the treatment of cardiovascular diseases, premier cardiovascular surgeon Dr. Michael E. DeBakey, who died recently, was a living legend. In 1981, DeBakey visited Miami Dade College and lectured to students.
Because of DeBakey's numerous contributions in research, education and surgery, he was widely known as a gifted and dedicated teacher, an ingenious medical investigator, inventor and innovator.
DeBakey's impressive lifelong scholarship is reflected in more than 1,600 medical articles, chapters and books. He also received more than 50 honorary degrees from prestigious colleges and universities, as well as innumerable national and international accolades. In 1969, he was awarded the Presidential Medal of Freedom with Distinction from President Lyndon Johnson.
In 1992, DeBakey was inducted into the Academy of Athens, a society of scholars founded by the Greek philosopher Plato. Although membership is generally restricted to Greeks who have made exceptional contributions to the arts, science or literature, an exception was made in DeBakey's case, as it was for Albert Einstein and Winston Churchill, in view of their extraordinary achievements.
DeBakey's keen intellect, ingenuity, personal integrity, compassion and selfless devotion to the service of humanity made him a true pioneer in his own time.
— Katherine Joss
More Features Articles