---
Academics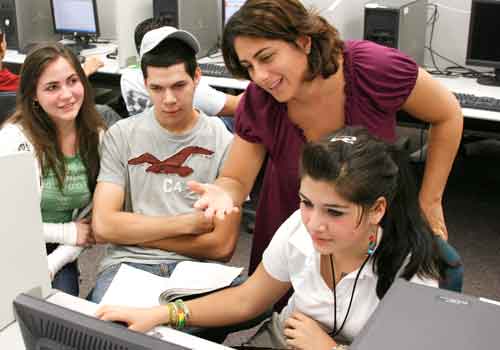 Professor uses digital technology to improve student success
The average student at Miami Dade College runs at full throttle, gunning from work to class to home and back again without much time to spare. This mania inspired one professor at Hialeah Campus to take up the battle cry: Save time by going online.
Assistant professor María Alina García saw that the one-credit laboratory for her College Prep Reading classes was lacking inspiration, and students were reticent about spending time in a computer lab without their teacher. But when given the option to complete the labs at home, students got engaged.
"They were thrilled about it," García said. "The labs can be done anywhere at any time. Instead of having to stick to a classroom schedule, they have all the flexibility that they need."
Flexibility is important to students trying to juggle multiple demands on their time, but a certain investment of time up front may be necessary for students not experienced with online coursework.
"I had a more mature woman in class who was not used to computers. By end of the semester, she loved it. By the next semester, she was taking Virtual College classes," García said.
After starting online labs for the highest level classes in the 2008 spring semester, García saw dramatic gains in testing. For the level three reading state exit exam, the pass rate was 96 percent – significantly higher than the 81 percent pass rate her class scored in 2006.
Dr. Billy Jones, the Kendall Campus department chair of college prep, says García's lab work is amazing. After he brought faculty to visit her at Hialeah Campus, they were inspired to replicate her online curriculum.
Hialeah Campus has already multiplied her success by putting all of the college prep reading labs into ANGEL, the online learning system that MDC implemented last year. García credits the quick adoption to Caridad Castro, chair of Hialeah Campus' liberal arts and sciences department, and to on-campus computer specialists Javier Dueñas and Hanadi Saleh.
García, who also teaches in the Virtual College, believes in the online movement. "I'm doing my doctorate online," she said. "The opportunities that technology is giving our students are unbelievable. I'm a total computer geek! I see so many possibilities. It's opened so many doors."
García also finds that online learning helps her address MDC's Learning Outcomes about technology and environmental responsibility. "I barely print anything out. Most of my classes are paperless," García said.
With her classes full and her schedule non-stop, García is making the most of her time by spending more of it online.
— Jim Harper
More Academics Articles