---
Features
Chinese students learn American hospitality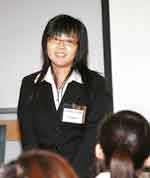 Lian Lian Chang
Eleven students from China's Tianjin Professional College (TPC) began their studies in hospitality management at MDC recently.
Miami Dade College signed a collaborative agreement with TPC in the spring to develop academic and professional exchange programs that include language, work study and artistic programs. In addition, the agreement details faculty exchanges and a one-semester training program at MDC for one or two TPC faculty members per year.
The Tianjin students will remain at MDC for eight months. During that time, they will take courses in hospitality management that were adapted from guidelines developed by the American Hotel & Lodging Association.
Additionally, they will all complete internships at major U.S. hotels, said Shelly Fano, director of the Hospitality Management program, part of the School of Business. Interviews were arranged with Marriott and InterContinental hotels. "Our goal is to give these students the full American experience," Fano said. "These students are in their third year at Tianjin Professional College, so what they'll learn at MDC is American hospitality management and customer service. They all speak some English, so we'll reinforce their English language education by putting the language in the context of their profession."
There will also be opportunities for touring locations like the Miami International Airport and the Port of Miami.
Upon completion of the program, students will put their new skills to work in China's growing hospitality industry.
— Gariot P. Louima
More Features Articles